'Market kindergarten' helps migrant children
By Wu Chong (China Daily)
Updated: 2005-04-13 05:44
Cui Jingsheng is no longer the wild boy who lived like a dirty pony galloping through 500 stands of muddy vegetable leaves with a running nose.
Now polite and clean, the 4-year-old migrant boy has undergone great changes since a year ago when he was sent to Professor Zhang Yan's "market kindergarten."As a free and informal pre-school education, the "kindergarten" was set up last year near the Sihuan market in Beijing's Xicheng District by Professor Zhang from Beijing Normal University.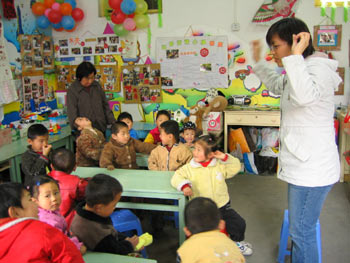 A voluntary teacher from the Beijing Normal University instructs migrant children from the Sichuan market at a small classroom in Xicheng District in Beijing. [newsphoto]
With 24 children under six, all the offspring of migrant vendors in the market, it is the first and only kindergarten of its kind in the city, which has nearly 100,000 pre-school aged migrant children in its 1,000-odd street markets.
"My boy has learnt to say hello and goodbye to people and now knows to wash his hands before eating,"said Miao Congge, Cui's mother, who migrated to sell groceries in Beijing from North China's Hebei Province four years ago with her husband.
She was once amazed when the boy stopped by a stall and politely spoke to an adult vendor.
"Also, I no longer need to worry about his security while doing business," she added.
Like most migrant workers on a low income, Miao says she is reluctant to send the child to an officially-run kindergarten which normally charges 400-500 yuan (US$48-60) a month.
Additionally, kindergartens always open at 7 am, a time when most vendors are already busy transporting goods and have no time to take their children to school.
The "kindergarten" class and most of the facilities were all provided by the market.
Now Miao takes little Cui to the "kindergarten" at 9 am every day, where the boy learns through games and stories and takes part in various outdoor activities under the guidance of voluntary student teachers from Beijing Normal University.
Parents are asked to play the teaching role in turns in the afternoon and are provided with regular sheets and books on how to educate kids. The market benefits too as its head Zhang Manhong said: "The kindergarten helps stabilize the vendors and contributes to the market's development."
But Professor Zhang set it up with a further goal to develop a culture of mutual support inside migrant communities who cannot afford to send their children to kindergartens but are equally eager to give their children good education from a young age. She advises the communities to take into account parental resources when giving support to the education of the migrant children below school age.
The Xicheng District is considering establishing similar pilot bases this year in other markets under a two-year project sponsored by the National Working Committee on Children and Women and the United Nations Educational, Scientific and Cultural Organization.
The project was launched yesterday both in Beijing and Chengdu in Southwest China's Sichuan Province, with the aim of offering migrant children ready access to equal education and helping them integrate into communities they live in.
(China Daily 04/13/2005 page2)
Today's Top News
Top China News

Japan told to face up to history, reflect on protests




HK law staff consult on tenure of new CE




Nations to make big difference to world




Tourist attractions freeze prices, for now




Government warns over painkiller drugs




Argument hits new pitch at opera house