Toddler battles one-in-a-million gene disorder
By Zhang Feng (China Daily)
Updated: 2005-04-13 05:42
At just 2-years-old, Jun Qi already knows how to count to 10, but, suffering from a rare genetic disorder that has already claimed the life of his elder brother, doctors cannot say if he will ever see his 10th birthday.
The disease, which took his 10 year-old-brother earlier this month, is familial hypercholesterolemia (FH). Occurring with a frequency of about one in a million, the disease means patient's bodies are unable to control cholesterol levels, leaving them with a hugely increased risk of heart attack and stroke.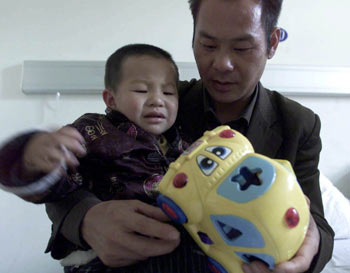 Father Li Bin cheers Jun Qi. [newsphoto]
According to doctors, Jun Qi, whose brother Chen Chen died of heart failure on April 10, could succumb at any time.
Although Jun is 8 years younger than his brother was, his condition is even more serious than that of his brother before he passed away, said Li Wei, a doctor at Wujing Hospital in Beijing.
Jun Qi and his brother were brought into the hospital shortly before Chen Chen's death to undergo life prolonging surgery promised to them free of charge.
Unfortunately, Chen Chen passed away suddenly before the operation could be carried out.
"Chen Chen had been playing with his brother on the morning of April 9, and still wanted to go to school," said his father, Li Bin, a 32-year-old farmer from Gan'an Town of Xinyang, Central China's Henan Province. The child died the next evening.
With all joints and hips dotted with yellow swellings, one of the disease's most obvious symptoms, Jun Qi still knows nothing of what is happening to him.
At the moment the only way to prolong his life is for the toddler to undergo a liver transplant, said Li Wei, one of a group of doctors planning the operation.
"We will transplant half an adult's liver to replace Jun's liver and improve his cholesterol levels," Li Bin said, adding that it is hard to find a donor liver for a child as young as Jun, but his condition is so serious they cannot wait for one to become available.
The operation will be done by Shen Zhongyang, leading doctor of the experts group who have successfully carried out dozens of liver transplanting operations for patients including other children as young as Jun.
During the high-risk, 10-hour operation, scheduled for this weekend or early next week, there is a chance Jun Qi could die, Li said.
It is the first time Chinese doctors have attempted such an operation, and nobody knows how long Jun will live even if the operation is successful, Li said.
Because the disease is so rare, even from abroad there is little experience the doctors can draw from, Li said. "In Australia, a 19-month-old child received the same operation and now, 17 months later, he is still alive," Li added.
The 250,000 yuan (US$30,000) cost of the operation is being entirely shouldered by the hospital, said Jun.
"I have accumulated 80,000 yuan (US$9,600) of debt in the past 10 years seeking treatment for my sons," said the father.
He said that he and his wife only earn about 2,000 yuan (US$240) a year through farming and selling vegetables.
And like millions of farmers, the family have no medical insurance.
In the seven years before coming to Beijing in 2003, the family visited dozens of hospitals across China.
However, it was only last July in Beijing Children Hospital, Li was told by a doctor visiting from Japan that his sons were FH patients.
"Once I heard I began planning to bring my sons home to wait for death as I knew the disease was very serious and treatment cost a lot of money," Li said.
Fortunately, the Wujing Hospital decided to treat them free of charge.
"Now, I cannot give up. I have lost one son, I cannot lose the other as well," said the father.
The reason for the disease is that father and mother each have one abnormal chromosome among their 23 pairs of chromosomes.
With only one abnormal chromosome, the parents can lead normal lives but because Jun Qi, and his brother, inherited both abnormal chromosomes from their parents, they developed FH, said Li Bin.
(China Daily 04/13/2005 page1)
Today's Top News
Top China News

Japan told to face up to history, reflect on protests




HK law staff consult on tenure of new CE




Nations to make big difference to world




Tourist attractions freeze prices, for now




Government warns over painkiller drugs




Argument hits new pitch at opera house