China tells Japan: Face up to history
(Agencies/Xinhua)
Updated: 2005-04-12 16:01
DELHI - China's premier urged Japan on Tuesday to "face up to history" by admitting the suffering it caused in World War Two, and seriously reconsider its bid for a U.N. Security Council seat after protests in China and elsewhere.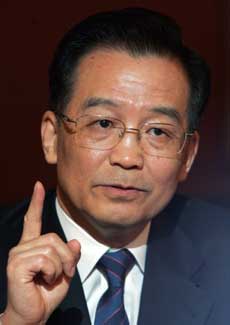 Chinese Premier Wen Jiabao gestures during a news conference in New Delhi April 12, 2005. Wen winds up a visit to India on Tuesday having made progress on a border row, boosted trade and energy cooperation, and with a vow by the world's fastest prowing economies to be partners rather than rivals. [Reuters]

Thousands of Chinese joined protests at the weekend at what many see as Japan's failure to own up to atrocities during and before World War Two. Protesters in China and elsewhere in Asia have also spoken out against Japan's bid to become a permanent member of the U.N. Security Council.

Premier Wen Jiabao said Japan must "face up to history squarely", and said the protests should give Tokyo serious pause for thought about its bid for a permanent council seat.

"The strong responses from the Asian people should make the Japanese government have deep and profound reflections," Wen told reporters in New Delhi.

"Only a country that respects history, takes responsibility for past history and wins over the trust of people in Asia and the world at large can take greater responsibility in the international community," he said.

Over the weekend, protesters chanted anti-Japan slogans, and marched from Zhongguancun in northwestern Beijing to the Japanese embassy in eastern Beijing, denouncing Japanese right-wing's efforts to whitewash its wartime atrocities by adopting a distorted history book.

Japanese leaders have demanded an apology and compensation for the damage caused by the protesters.

Chinese Foreign Ministry spokesman Qin Gang said on the same day that the responsibility for the current situation of Sino-Japanese relations does not lie with China.

"Japan must adopt an earnest attitude and appropriate ways to deal with major principled issues concerning the feelings of the Chinese people," he said, "The Japanese have to do more things conducive to enhancing mutual trust and maintaining the relations between the two countries, rather than doing the reverse."

China supports India's bid for UNSC seat

Wen said China supports India's bid for a permanent seat in the United Nations Security Council.

"We fully understand and support the Indian aspiration to play an even bigger role in international affairs and in the UN," Premier Wen said while addressing a question at a press conference before winding up his four-day visit to India.

He said he had conveyed the support to Indian Prime Minister Manmohan Singh during their talks here.

China attaches "great importance" to India's role in both international and regional affairs, Wen said, adding "India is a very populous developing country and also a very important developing country".






Today's Top News
Top China News

Sino-Indian accord to solve border dispute, boost trade




China tells Japan: Face up to history




Possible Lien Chan visit hits troubled waters




Report: Saddam could escape execution




Tokyo stocks lower amid tension with China




China unlikely to agree MG Rover rescue