China unlikely to agree MG Rover rescue
(Agencies)
Updated: 2005-04-12 13:38
LONDON - China's biggest carmaker said it was highly unlikely to agree a rescue deal for MG Rover, as administrators battled on Monday to find a buyer for the UK firm which is losing up to 25 million pounds ($47 million) a month.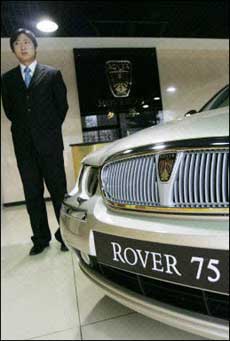 A salesman stands next to a Rover 75 car in a Beijing showroom in this undated file photo. The British government sought a last-minute rescue for car maker MG Rover, with or without a proposed Chinese partner, having bought time with a loan to pay this week's wages as an election loomed. [AFP]

About 6,000 MG Rover workers could be made redundant next week if administrators fail to find new investors to inject more money into Britain's last independent carmaker when emergency government funding runs out, administrators PwC said.

MG Rover, which once made the iconic Mini and Land Rover models, collapsed on Friday after failing to agree a rescue deal with China's Shanghai Automotive Industry Corp (SAIC).

The dramatic move could hardly have come at a worse time for Britain's ruling Labour Party, which is campaigning on the back of its economic record to win re-election on May 5 and is defending a number of slim majorities in seats around MG Rover's main Longbridge plant in Birmingham, central England.

Accountants PwC said on Monday it had received several expressions of interest in MG Rover over the weekend, but none of the parties had offered cash to keep the business going.

PwC also said it had contacted SAIC, but the Chinese firm dashed hopes it could be persuaded to return to the table while the company was in administration, a form of bankruptcy where accountants are bought in to try to save the business.

"We still believe it is highly unlikely that SAIC would want to be involved with MG Rover while it is under administration," an SAIC spokesman said.

The banking team SAIC had hired for a possible MG Rover deal has been disbanded, a source close to SAIC said.

"The bankers went home (from Shanghai) last Thursday and have not been reconstituted and there are no current plans to do so."

But SAIC could still be interested in MG Rover assets if the company went into liquidation, the source added. SAIC owns the blueprints to some Rover cars, called intellectual property rights (IPR), which means they might bid for factory machinery to ship back to China to make the cars there, he said.

EMERGENCY LOAN

PwC said there were no plans to resume car production despite a 6.5 million pound government loan to cover wages and expenses for a week, preventing the immediate lay-off of 6,000 workers who were sent home on full pay on Monday.

The European Commission said it expected the British government to notify it about the emergency funding within the next 24 hours, adding that in theory no aid can be paid out without notification.

MG Rover has struggled to break even after being sold four years ago by Germany's BMW AG as tough competition from Japanese and European rivals hit sales.

Administrators said the firm had "very significant losses" of 20 to 25 million pounds a month.

Workers at Longbridge fear thousands of jobs will go. "There are blokes walking around in shock," said Pat Wilson 54, who has worked there for 32 years.

Administrators said if there were no improvement by next week they would have to make the decision "that we can't afford to keep the workforce together."

The Transport & General Workers Union (TGWU) met workers Monday at Longbridge. Most went home although some stayed behind to help administrators, a spokeswoman said.

Investors specializing in troubled companies were also starting to circle the dozens of auto part suppliers who may be in trouble if Rover collapses. Around 15,000 jobs at suppliers could go if it is wound up.

"We might be looking at suppliers of MG Rover in trouble from their exposure," Mike Harris, partner at Rutland Fund Management Ltd, told Reuters.




Today's Top News
Top China News

Sino-Indian accord to solve border dispute, boost trade




Possible Lien Chan visit hits troubled waters




Report: Saddam could escape execution




Tokyo stocks lower amid tension with China




China unlikely to agree MG Rover rescue




Japan seeks to improve China ties