Sino-Indian accord to solve border dispute, boost trade
(Agencies/chinadaily.com.cn)
Updated: 2005-04-12 13:28
China and India, the two rising Asian giants, are now on a course of rapprochement, a blessing not only to Asian region but also the whole world.
In the presence of visiting Chinese premier Wen Jiabao and Indian Prime Minister Manmohan Singh on Monday, the two states signed a historic accord setting out "guiding principles" to resolve their decades-old border dispute. Analysts hail the move as a boost to bilateral economic cooperation and political relations.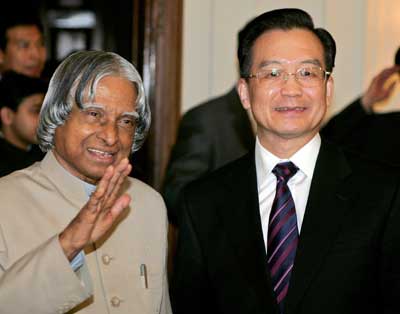 Indian President A. P. J. Abdul Kalam (L) gestures as Chinese Premier Wen Jiabao looks on before their meeting in New Delhi April 11, 2005. The Chinese premier is in India on a four-day official visit. [Reuters]

The border accord sets out a roadmap to settle the dispute without use of force, insiders said.

China and India have also set themselves a target of increasing bilateral trade to 20 billion dollars by 2008 from a current 13.6 billion dollars, they said in a joint statement.

India hailed Wen's four-day visit, which ends Tuesday, saying a "strategic partnership with China for peace and prosperity has been established".

"It was an extremely successful visit with results that will be far-reaching in character," Indian Foreign Secretary Shyam Saran told reporters. "India and China are partners, and they are not rivals," he added. "We do not look upon each other as adversaries."

Border Deal

The "three-tiered" border deal, described by India's National Security Adviser M.K. Narayanan as "one of the most significant documents" signed by the neighbours, will allow special envoys to negotiate territorial claims as experts delineate the boundary on a map and on the ground.

The boundary dispute is the result of a brief but bitter border conflict in 1962 that left ties between the world's most populous countries in shreds.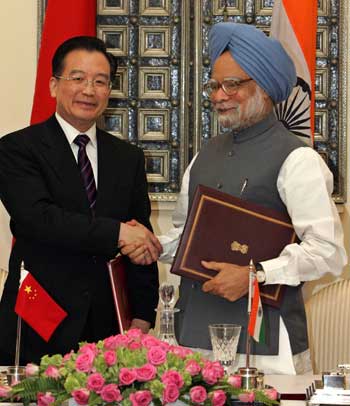 Chinese premier Wen Jiabao (L) and his Indian counterpart Manmohan Singh shake hands after the two countries signed agreements in New Delhi, April 11, 2005. Wen and Singh were due to agree on a roadmap to settle a decades-old border dispute on Monday, as the nuclear rivals aim to build a new "bridge of friendship". [Reuters]

A formal ceasefire line is yet to be established but the unsettled frontier has remained lpeaceful, thanks to agreements signed in 1993 and 1996.

"For the first time we see a commonality on both sides to find a solution," said Narayanan who worked out the finer points of the pact with Chinese Vice Foreign Minister Dai Bingguo on Sunday.

The border agreement commits Beijing and New Delhi to "safeguard due interests of their settled populations in the border areas," while arriving at a solution.
Another accord, to minimize tensions between the two militaries and increase interaction between them, was also initialed, India's foreign ministry said.

In addition, other agreements aimed at improving bilateral relations in general -- including in trade, civil aviation, water resources management, culture, films, increasing air links and people-to-people contact -- were inked.

A joint statement signed by prime ministers Singh and Wen noted the "the process of building trust and understanding had gained momentum".

India and China agreed that "relations have now acquired a global and strategic character" and have decided to "establish an India-China Strategic and Cooperative Partnership for Peace and Prosperity," the statement said.

"The two countries today have upgraded their ties to strategic cooperation and partnership for peace and prosperity through common understanding and a raised level of maturity," Indian Foreign Secretary Shyam Saran said after the pacts were signed.

Trade Agreement

"The two sides agree that their relationship has acquired global dimensions and impact," he said, adding that Wen and Singh in their talks had accorded "considerable focus" on bilateral trade.

The two sides accepted a recommendation by a joint commission set up by New Delhi and Beijing two years ago for an India-China Regional Trading Arrangement.

China is now India's second-largest trading partner, after the United States. Chinese-made toys, refrigerators and televisions have been welcome on the Indian marketplace. India exports raw materials for China's booming construction industry.

India and China will begin a financial dialogue to conclude bilateral investment promotion and protection agreements, the statement said.

China also formally buried its decades-old dispute on New Delhi's claims over the former British protectorate of Sikkim while India reiterated Beijing's sovereign right over Tibet. The two sides had already agreed to this formulation during a visit by then prime minister Atal Behari Vajpayee to Beijing in 2003.

At the same time China agreed to trade with India through the strategic Nathu La pass in Sikkim.




Today's Top News
Top China News

Sino-Indian accord to solve border dispute, boost trade




Premier to Japan: Face up to history




Possible Lien Chan visit hits troubled waters




Report: Saddam could escape execution




Tokyo stocks lower amid tension with China




China unlikely to agree MG Rover rescue



Story Tools


Advertisement