Tony Blair favored in British elections
(Agencies)
Updated: 2005-04-12 08:55
Britain's opposition Conservatives are running almost even with Prime Minister Tony Blair's Labour Party in polls, yet few people give them a chance of winning national elections.
Quirks in Britain's electoral system mean that — not unlike Al Gore's loss to George W. Bush in the 2000 U.S. presidential race — the Conservatives could receive more votes than Labour or any other party on May 5 and still lose.
Polls this week showed the race anywhere between a dead heat and a 7 percentage point advantage for Labour.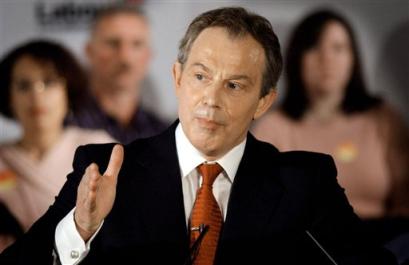 Britain's Prime Minister Tony Blair makes his acceptance speech to supporters at Trimdon Constituency Labour Club in his Sedgefield constituency, Sunday , April 10 2005, after being elected as their candidate for the forthcoming General Election, which takes place May 5.[AP]

But "nobody is imagining that the Conservatives can win, and it is entirely down to the bias in the electoral system," said John Curtice, a political analyst at Stratchlyde University.

A campaign ad broadcast Monday showed Blair and Treasury chief Gordon Brown setting out their vision for a third term in office. The short film, crafted with the help of Academy Award-winning director Anthony Minghella, shows the pair sitting closely together in a dimly lighted office, brainstorming ideas and chatting like old college friends.

Like the United States, Britain's parliament does not have proportional representation — a system in which seats are distributed based on the overall vote breakdown nationwide.

Instead, each of Britain's 646 electoral districts sends one lawmaker to the House of Commons. Whoever wins the most votes in each district gets the seat, and the party that gains the most Commons seats forms the government.

Sounds simple, but it makes for a complicated political equation — one that experts agree is currently skewed against the Tories.

Analysts predict that even if both parties win an equal share of the vote, Labour still would have a Commons majority of 50 seats.

To win outright, Conservative leader Michael Howard would need a massive 10 or 11 percentage point lead, analysts say.

A poll released Monday, done by the NOP firm for The Independent newspaper, showed Labour ahead by 6 percentage points, or 38 percent to the Tories' 32 percent. Pollsters interviewed 956 people with a margin of error of 3 percentage points.

A look at Britain's political map shows several factors working for Labour.

A large portion of Conservative supporters are in rural districts where Labour voters are scarce. In these areas, the Tories win by a heavy margin, thus "wasting" votes.

Labour's support is strong in urban areas carved into many smaller electoral districts, where fewer votes can mean a seat. Labour's support also is efficiently distributed across far more constituencies — albeit ones where they have won in recent years by a small margin.

It all boils down to what the British call "safe seats." Labour has a lot, the Tories relatively few.

"The key thing is the distribution of the support," said William Jones, a political analyst at Manchester University. "It takes so many fewer votes to elect a Labour MP as their support is piled up in safe constituencies."

Jones said he did not expect to see a massive shift in support for Howard before the election.

"Howard needs an earthquake shift and there is nothing in the state of political affairs to indicate anything other than a minor tremor on the Richter scale," he said.

Despite the statistical disadvantage, the Conservatives remained upbeat.

Howard on Monday launched his party's election manifesto, declaring: "I'm going into battle for Britain." He promised major tax cuts and a crackdown on immigration.

"It is statistically true that the present distribution of seats favors the Labour Party, but the fact is the Conservative Party are out to win and can do so under this or any other system," said Lord Strathclyde, Conservative leader in the House of Lords.

In the 2001 election, Labour gained 63 percent of the seats in the Commons — a whopping 167 more than all the other parties combined — on just 41 percent of the popular vote. The Conservatives won 32 percent of the total votes cast, but got just 25 percent of the seats.




Today's Top News
Top World News

China, India forging strategic partnership




Possible Lien Chan visit hits troubled waters




Report: US trade rules unfair




Father sees son mauled to death by tiger




Foreign trade growth maintains momentum




U.S. contractor kidnapped in Iraq