U.S. to promise $1.7b in aid for Sudan
(Agencies)
Updated: 2005-04-12 08:55
Hoping to invigorate Sudan's peace process, the United States will promise more than $1.7 billion in humanitarian and reconstruction aid for the war-ravaged African country, the No. 2 State Department official said Monday.
US Deputy Secretary of State Robert Zoellick is attending an international conference for donors to Sudan this week, where he will formally announce the pledge, press for progress in the western region of Darfur and rally other countries to do the same.
Zoellick said Monday that Sudan, Africa's largest country, is at a crossroads. It can move toward peaceful reconciliation by stopping violence in Darfur and implementing the agreement the warring North and South reached in January to end a 22-year civil war that has taken more than 2 million lives, he said.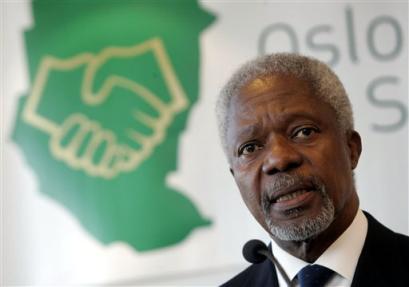 U.N. Secretary General Kofi Annan holds a press conference during the international conference on aid for Sudan, which was opened in Oslo, Norway, Monday, April 11, 2005. The April 11-12 conference brings together rich donor countries, international organizations and representatives of former enemies in the conflict who joined a transitional team to create a joint government. [AP]

Bush administration officials say ending violence in Darfur is essential to a successful peace agreement between the mostly Arab Sudanese government in Khartoum in the North and the black African rebels who control the South. The United Nations says that in Darfur alone, 180,000 people have died and more than 2 million have been uprooted from their homes since early 2003.

Zoellick said the United States will devote more than $1.7 billion to reconstruction efforts and humanitarian aid in Sudan for this year, and "there will be more" over the next two years. Congress already has allocated $850 million to help the Sudanese in 2005 and the president has asked lawmakers to approve another $880 million.

But Zoellick warned that if Sudan is unwilling to halt the bloodshed, it would be extremely difficult to justify contributing additional money to implement the peace agreement.

"If conditions in Darfur do not improve, neither the United States nor other countries are going to be able to provide the financial assistance for the North-South accord," Zoellick told reporters while flying to Oslo.

Sudan is seeking $2.6 billion over three years from the international community for emergency reconstruction, mostly in the country's devastated southern region. The United Nations wants to send another $1.5 billion for humanitarian aid.

Since 2003, Sudan has received $1 billion in U.S. aid related to the North-South war and $600 million for Darfur.

The peace deal — intended to end the war — lays out a process for the two sides to share power and wealth, and gives the South the option of autonomy in six years.

But the United States fears the pact could unravel without strong international backing and if the Darfur conflict persists.

Zoellick planned to press all those concerns in meetings with the Sudanese government and rebel leaders from the Sudan People's Liberation Movement while in Norway, and again, later in the week, when he visits their respective strongholds of Khartoum and Rumbeck.

Officials say that while atrocities continue, large-scale organized violence has lessened since January in areas where 2,200 African Union peacekeeping troops have been deployed.

The U.N. Security Council has voted to send 10,700 peacekeepers to Sudan to monitor the peace deal and institute sanctions against anyone attempting to thwart the peace process.




Today's Top News
Top World News

China, India forging strategic partnership




Possible Lien Chan visit hits troubled waters




Report: US trade rules unfair




Father sees son mauled to death by tiger




Foreign trade growth maintains momentum




U.S. contractor kidnapped in Iraq