Old palace has new environment snag
By Li Jing (China Daily)
Updated: 2005-04-12 06:36
It's not proving to be a good year so far for the Old Summer Palace in northwestern Beijing.
First, lakes at the key tourist destination were covered with plastic covering aimed at preventing water seeping away. That outraged environmentalists who said the underground water supply will suffer.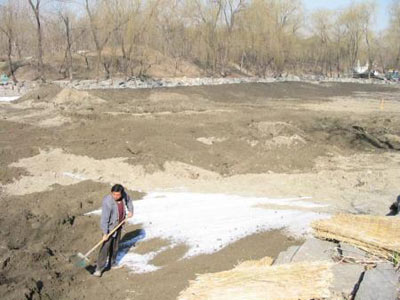 A worker works in the Yuan Ming Yuan lake. [People's Daily]
Now, long-standing wild shrubs and trees have been rooted out to make way for man-made rockeries and decorative plants.
"Renovating" the landscape in this way will ruin the home of many old plants, birds and animals, and not blend in with the historical look of the place, said Yu Kongjian, a professor in landscape architecture at Peking University.
The State Environmental Protection Administration will hold a hearing tomorrow to discuss what is taking place at the park.
It previously said it was far from happy with the plastic covering and ordered the project stopped.
However, the project was resumed and was finished last week.
The multi-million dollar plastic covering project was accused of sparking an ecological disaster at the palace, or the Yuanmingyuan Park.
It is thought the impermeable covers will cut the natural water flow and turn the lakes into "dead pools."
Now the park is facing another problem with the replanting, said Yu. "People should have a clear understanding of the value of Yuanmingyuan. The park's value lies in its defaced ruins and the natural ecological environment."
"Rooting out wild grass, shrubs, and trees and planting so-called decorative vegetation will destroy the park for the second time," Yu added.
It was first ruined in 1860 when the palace was burned down by British and French troops. More destruction followed in 1900 by the allied army of eight foreign countries.
Built in 1709 during the Qing Dynasty (1644-1911), Yuanmingyuan was dubbed the "Garden of Gardens" for its luxurious palaces and mansions in both Eastern and Western styles.
"Yuanmingyuan still has great value because of its ecological environment. The park is home to a lot of native plant species which provide an excellent habitat for many kinds of birds and other animals. The vegetation is very important for the conservation of water and top soil," said Yu.
He added that the wild native plants, rather than new vegetation, are in tune with the ruins of the park.
Liu Zhi, a 37-year-old Beijing resident, said: "It's ridiculous to rebuild a 'beautiful' new garden at Yuanmingyuan. It should not be renovated to look the same as many other parks. It goes against environmental protection."
He Fang, an official with the Yuanmingyuan Management Office, said her office would talk with experts who questioned the landscape renovation project at tomorrow's hearing.
(China Daily 04/12/2005 page3)
Today's Top News
Top China News

China, India forging strategic partnership




Possible Lien Chan visit hits troubled waters




Saddam could escape execution




Report: US trade rules unfair




Japan seeks to improve China ties




Father sees son mauled to death by tiger