China, India sign accord on border dispute
(Agencies/Xinhua)
Updated: 2005-04-11 17:14
NEW DELHI - India and China signed a landmark accord aimed at resolving a boundary dispute that has bedevilled relations between the Asian giants for more than four decades, the Indian foreign ministry said.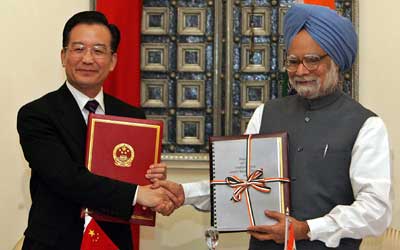 Chinese premier Wen Jiabao (L) shakes hands with Indian Prime Minister Manmohan Singh after signing an agreement in New Delhi April 11, 2005. Wen and Singh were due to agree on a roadmap to settle a decades-old border dispute on Monday, as the nuclear rivals aim to build a new "bridge of friendship". [Reuters]
Wu Dawei, Chinese deputy foreign minister, who is accompanying Chinese Premier Wen Jiabao on his official visit to India, told reporters after the signing ceremony that the agreement has laid foundations for solving the border issue between the two countries.
Wu, in charge of Asian affairs, said that the two sides still need to make joint efforts as the demarcation of the border is concerned.

The agreement, signed by India's national security advisor M.K. Narayanan and Chinese Vice Foreign Minister Dai Bingguo sets out the "guiding principles" to be followed in settling the China-India boundary dispute, a ministry statement said on Monday.
"The differences on the boundary question should not be allowed to affect the overall development of bilateral relations," the agreement, released by the ministry, says.
"The two sides will resolve the boundary question through peaceful and friendly consultations. Neither side shall use or threaten to use force against the other by any means.
"The final solution of the boundary question will significantly promote good neighbourly and friendly relations between India and China," it said.
India and China will "make meaningful and mutually acceptable adjustments to their respective positions on the boundary question, so as to arrive at a package settlement to the boundary question," it added.
"The boundary settlement must be final, covering all sectors of the India-China boundary."
Bilateral "strategic and reasonable interests, and the principle of mutual and equal security" will be kept in mind while arriving at a final settlement, the agreement says.
The accord will help special representatives named by India and China in 2003 negotiate territorial claims as experts delineate the boundary on a map and on the ground, Indian officials said.
The dispute is the consequence of a brief but bitter border conflict in 1962 that left relations between the world's two most populous countries in shreds.
Today's Top News
Top China News

China, India sign accord on border dispute




Experts: Yuan revaluation won't help US trade deficit




Legislature asked to interpret Basic Law




Hailstones 'as big as eggs' kill 18




Tin smelting poisons 31 members of a family




P&G accepts fine for 'bogus' advertising