Iraq kidnap victim's family seeks release
(Agencies)
Updated: 2005-04-11 09:29
The family of a Pakistani embassy employee kidnapped in Baghdad appealed Sunday for his captors to release him, and al-Qaida's ally in Iraq claimed to have kidnapped and killed a senior police official.
The kidnappings came as Iraq's most feared terrorist organization issued an Internet statement rejecting any efforts by the new government to make peace.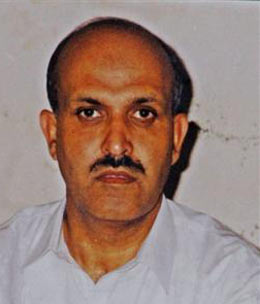 Malik Mohammad Javed, a kidnapped Pakistani diplomat, is seen in this undated file photograph. Javed, a deputy counselor at the embassy who has lived in Iraq for six years, went missing in Baghdad on Saturday, April 9, 2005, after leaving home to pray at a mosque, officials said. The foreign ministry announced Sunday, April 10, that militants in Iraq kidnapped Javed. [AP]
Malik Mohammed Javed, a consular and community affairs employee at Pakistan's embassy, went missing in Baghdad on Saturday after leaving home to pray at a mosque, officials said.
The previously unknown Omar bin Khattab group claimed responsibility for his kidnapping and Javed called the embassy to say his abductors had not harmed him, Pakistan's Foreign Ministry said in a statement.
Ministry spokesman Jalil Abbas Jilani said he had no information about the group. There have been no reports of a group by that name existing in Iraq.
The kidnappers' demands were not immediately clear.
Possibly anticipating a demand for Islamabad to close its embassy in Baghdad, Information Minister Sheikh Rashid Ahmed said, "We will neither withdraw our embassy staff nor close the mission."
Javed's son appealed to his father's kidnappers to release him.
"Everyone is crying here," Bilal Malik, 20, told The Associated Press by telephone. "My father has done nothing wrong. He was only going to offer his prayers. They are Muslims. They should release our father who is also a Muslim."
The kidnapping comes nine months after insurgents abducted and killed two Pakistanis working for a Kuwaiti company in Iraq. Their abductors had demanded that Pakistan promise not to send any troops to Iraq.
Pakistan, a key U.S. ally in the war against terrorism, has refused to deploy peacekeepers and has urged its citizens to avoid coming here.
Also Sunday, the terrorist group al-Qaida in Iraq, led by Jordanian militant Abu Musab al-Zarqawi, claimed to have kidnapped and killed Najaf police Brig. Gen. Bassem Mohammed Kadhim al-Jazaari while he was visiting Baghdad.
"After his confessions, God's verdict was carried out against him," said the statement, which could not be independently verified.
Iraqi Interior Ministry official Capt. Ahmed Isma'el said al-Jazaari was kidnapped in western Baghdad late Saturday, along with his nephew, but he had no other details.
In a separate statement, the same group rejected interim President Jalal Talabani's attempts to reach out to Iraqi insurgents. Talabani's call was not directed at foreign fighters.
"Oh, you agents of the Jews and the Christians, we have nothing for you but the sword," the statement said. "We will not stop fighting."
In the ongoing battle against Saddam Hussein's former regime, the Iraqi government announced Sunday that security forces had arrested Ibrahim Sabaawi, the son of Saddam's half brother, near Baghdad. The statement said Sabaawi was close to the former regime.
"Until his arrest, he had been supporting terrorists and providing them with finances," it said.
It was unclear when the arrest took place.
Iraq's National Assembly also met and called for relaxing security measures that have snarled traffic and closed much of central Baghdad during their sessions. The government still must approve the request.
"These measures are highly exaggerated and they hinder the work of the employees and the movement of the citizens," parliament speaker Hajim al-Hassani said.
Underscoring security concerns, a car bomb exploded Sunday near a U.S. convoy in Baghdad, injuring four civilians, Iraqi police Lt. Ali Hussein said. In Baqouba, 35 miles northeast of Baghdad, another car bomb blew up near a U.S. patrol, wounding an American service member, the U.S. military said. Two people were taken into custody.
In an interview Sunday with CNN's "Late Edition," Talabani said he hoped that new interim Prime Minister Ibrahim al-Jaafari will have the Cabinet formed in one week, clearing the way for discussions on how to put Saddam and his former aides on trial.
Foreign Minister Hoshyar Zebari said the new Cabinet would include 31 ministers. Among the posts he expected were eight for the Kurds, including the Foreign and Planning ministries.
The United Iraqi Alliance will have 16 posts, including the Interior and Finance ministries, and outgoing Prime Minister Ayad Allawi's coalition should get four ministries, Zebari said. He also mentioned the possibility of Sunni participation.
However, Ali al-Dabagh, a member of the Shiite-led United Iraqi Alliance, said some members of the coalition want to be part of the opposition and not hold posts in the new government. So far, the coalition has not committed itself to participating, he said.
"We think that they have to formulate a clear position," he said. "The Alliance is not ready to waste a lot more time negotiating with Dr. Allawi's coalition."
Meanwhile, a U.S. soldier was killed during a non-hostile incident in Iraq, the U.S. military said Sunday. Further details on the death were not released.
As of Saturday, at least 1,545 members of the U.S. military have died since the beginning of the Iraq war in March 2003, according to an Associated Press count.
Talabani told CNN he believed Iraqi security could take control of the country within two years, although he said how long U.S. forces remain depended upon a number of factors.
"I think within two years, we can do it, and at the same time, we will remain in full consultation and coordination, cooperation with our American friends," he said.
Today's Top News
Top World News

Legislature asked to interpret Hong Kong Basic Law




Wen in New Delhi for landmark visit




Hailstones 'as big as eggs' kill 18




Tin smelting poisons 31 members of a family




P&G accepts fine for 'bogus' advertising




Globalization takes centre stage at contest