Undersea quake hits near Indonesia island
(Agencies)
Updated: 2005-04-11 09:29
A strong undersea earthquake rocked the Indonesian island of Sumatra on Sunday, sending thousands of people fleeing from their homes in panic, but no tsunami was triggered, seismologists said.
The 6.8-magnitude temblor smashed windows in the west Sumatran city of Padang, state news agency Antara reported. There were no reports of casualties or major damage.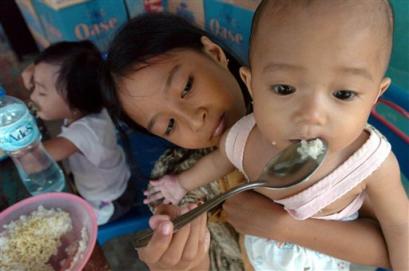 An Indonesian woman feeds her child in a refugee camp on the Nias Island, Indonesia, Sunday, April 10, 2005. The rescue work on the island will be focused on its reconstruction, said a local official on Sunday. The Nias Island was the epicenter of the strong quake on March 28, which left more than 600 people dead, thousands of people injured and thousands of others homeless. [AP]
The quake was followed by at least 10 aftershocks ranging up to magnitude 6.3, officials and residents of the seaside city said. Local media reports urging people to leave their homes added to the panic, said Nanang Farid, a Padang resident.
"My house really shook. Everyone who lives by the sea has fled to higher ground," said Farid, who along with his pregnant wife was planning to spend the night at a friend's house inland.
Sumatra was devastated by the Dec. 26 earthquake and tsunami that killed nearly 183,000 people in 11 countries and left another 129,000 missing.
Indonesia, the world's most populous Muslim nation, was the hardest hit, with at least 126,000 people killed and more than 500,000 left homeless, mostly in Aceh province on Sumatra.
The region has since been hit by daily aftershocks that regularly cause people to flee their homes. On March 28, an 8.7-magnitude quake killed at least 647 people on Nias Island, which lies close to Padang.
The epicenter of Sunday's quake was about 70 miles southwest of Padang, the U.S. Geological Survey said. Its depth was 18.6 miles and it struck at 5:29 p.m. (6:29 a.m. EDT), it said.
Today's Top News
Top World News

Legislature asked to interpret Hong Kong Basic Law




Wen in New Delhi for landmark visit




Hailstones 'as big as eggs' kill 18




Tin smelting poisons 31 members of a family




P&G accepts fine for 'bogus' advertising




US: No deadline, concessions for North Korea