Versatile artist Chen Yifei dies at 59
(Shenzhen Daily)
Updated: 2005-04-11 08:43
Chen Yifei, a renowned artist who leveraged his fame to set up a business empire that included magazines, fashion brands, film production, a modeling agency and a restaurant in Xintiandi, died yesterday morning at Huashan Hospital from gastric hemorrhage. He was 59.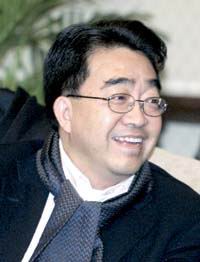 Chen Yifei died at 59, leaving his debut film "Barber" unfinished. [baidu]

"Chen was a talented man," lamented Peng Yangjun, a photographer with the Yifei Group. "He was quite utopian and always open to new things. Chen, in particular, intended to give young people opportunities for their future development."

Chen, who was born in Zhenhai, Zhejiang Province, in 1946, studied painting at the Shanghai Art Academy. He rose to prominence in China's art world in the 1960s and 70s for a series of oil paintings depicting historical events.

He moved to New York in 1980 - reportedly with only US$38 in his pocket - and he soon earned the attention of gallery owners in the city. In 1991, one of his works sold for 1.37 million yuan (US$164,400) at auction in Hong Kong.

Chen moved back to Shanghai in the early 1990s and began setting up his business empire, which includes Shanghai Tatler magazine, the Layefe and Leyefe fashion brands, and Yefe Home, an eatery in Xintiandi.

He also began making films, starting with a documentary about his life entitled "Old Dream on the Sea," which was screened at the first Shanghai International Film Festival in 1993.

He was in the middle of shooting a film called "Barber" when he was hospitalized earlier this year. The film was to star Jiang Wen and Ge You.

"Chen was a clever person," said a fellow artist who asked not to be identified, "He never spent a moment in silence."

"Chen's name was like a 'golden name,"' said Wu Meisen, who helped to turn Taikang Road, an area full of rundown warehouses and factories, into a gathering place for artists and gallery owners. Chen set up his own gallery on the street a few years ago.

"His decision to move here helped make Taikang Road the active scene it is now. I feel so sorry to hear he has passed away. He was too keen on every detail."

Chen's name regularly popped up in local newspapers, whether for his business achievements or due to gossip about his affairs with models.

Unlike many other local celebrities, Chen was more than happy to give out his mobile phone number to reporters.

"Just imagine the phone calls that he received every day from various newspapers and magazines," said Zhang Lixing, a local reporter, "The man was rather something."

Chen is survived by his second wife, Song Meiying, a former model, and their 6-year-old son. He is also survived by Chen Ling, a son from his first marriage.

Two mourning halls will be set up for Chen, one at his newly purchased villa on Longdongdadao, and another on Taikang Road.

"Life is like a long journey with many stations," Chen once said, "Sometimes you have to stop to unload or load something for the next station."





| | |
| --- | --- |
| | |
| Has the deceased Pope been embalmed? | |

| | |
| --- | --- |
| | |
| Cameron Diaz takes a tumble | |

| | |
| --- | --- |
| | |
| Former first daughter Chelsea Clinton boozing again | |
Today's Top News
Top Life News

Legislature asked to interpret Hong Kong Basic Law




Wen in New Delhi for landmark visit




Hailstones 'as big as eggs' kill 18




Tin smelting poisons 31 members of a family




P&G accepts fine for 'bogus' advertising




Globalization takes centre stage at contest