Charles, Camilla marry after 35-year affair
(Agencies)
Updated: 2005-04-09 21:52
WINDSOR, England - Britain's Prince Charles finally married the love of his life on Saturday, in a simple town hall ceremony contrasting sharply with his spectacular cathedral wedding to the ill-fated Princess Diana.
After a 35-year affair, Camilla Parker Bowles has gone from commoner to the second most senior woman in the royal family after the queen.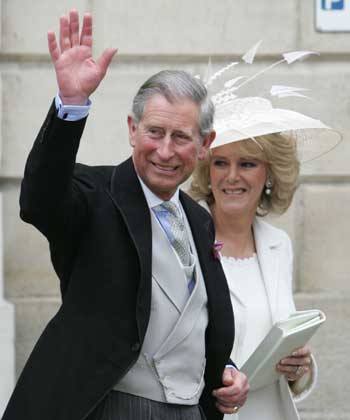 Britain's Prince Charles waves as he and Camilla Parker Bowles leave the Guildhall in Windsor, southern England, after their civil wedding ceremony, April 9, 2005. Prince Charles and his long-term partner, who with the wedding becomes Her Royal Highness the Duchess of Cornwall, married on Saturday in a low-key ceremony. [Reuters]

Thousands of diehard royalists waved flags and cheered as the newly-weds emerged arm-in-arm to a chilly breeze in the riverside town of Windsor, west of London, before heading off in a Rolls-Royce for the nearby family castle.

"Thank you very much," Charles mouthed to the crowd, while Parker Bowles, in an ivory silk coat over her chiffon dress, beamed happily.

The heir to the throne, his tangled love life finally in order, now hopes the British who so adored and still revere the memory of the late Diana will learn to accept Parker Bowles.

Polls show wide public opposition to a future Queen Camilla -- blamed by many for Charles' split with Diana -- but there was plenty of good will toward the couple on Saturday.

"They deserve some happiness and really are a well-matched pair," said Canadian Jane Hand, waving a Union Jack flag.

One well-wisher made her point with a giant banner saying: "Let He Who Is Without Sin Cast The First Stone."

But, amid the cheers, there were boos for the two divorcees from one small group of protesters with a banner proclaiming "Illegal, Immoral, Shameful."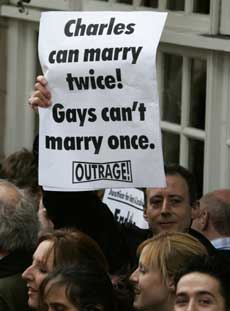 Gay rights activist Peter Tatchell protests before the civil wedding ceremony of Britain's Prince Charles and the Duchess of Cornwall at the Guildhall in Windsor, southern England, April 9, 2005. Prince Charles and his long-term partner Camilla married on Saturday in a low-key ceremony. [Reuters]

Gay activist Peter Tatchell carried a placard saying "Charles can get married twice. Gays cannot get married once."

And the sight of coachloads of royals turning up at the town hall while a high school jazz band played "Congratulations" did raise a few eyebrows in the crowd.

"This feels more like a backyard barbecue than a royal wedding," said Vincent Jenkins. "It's all so cheap," said Jo Davies.

The royal couple were relieved finally to reach the big day after it had appeared jinxed.

First the venue had to be switched to the town hall in a blunder over licensing -- it was originally meant to take place out of the public gaze behind the castle walls -- then Charles' mother Queen Elizabeth declined to attend the civil ceremony.

At the last minute everything had to be postponed a day to avoid clashing with Pope John Paul's funeral at the Vatican.

GHOST OF DIANA

Despite the lively atmosphere, there was none of the national frenzy that erupted when Diana married Charles in London's grandiose St Paul's Cathedral in 1981 before a TV audience of millions.

Charles and Camilla had just 30 witnesses in Windsor.

Police estimated 20,000 people had come to the town, a fraction of the 600,000 who lined the streets of London 24 years ago.

Around the Commonwealth of mainly former UK colonies, there were some celebrations but again none of the enthusiasm generated by Diana.

Republicans in Australia, a former colony which retains Queen Elizabeth as its head of state, marked the wedding with a brunch at a Sydney Chinese restaurant on Saturday.

"Today we are reminded that our head of state is a stranger from another land, a stranger who will be our head of state through right of birth, rather than through the will of the Australian people," Australian Republican Movement spokesman Jason Falinski told reporters.

ROYAL WITNESSES

Charles' elder son Prince William, who inherited his mother's box-office looks, acted as witness at the ceremony with Camilla's son Tom, a food columnist.

The scene then switched to St George's Chapel, Windsor Castle, for a service of blessing being conducted by Archbishop of Canterbury Rowan Williams, spiritual head of the world's 77 million Anglicans.

That was to be followed by a reception for 800 guests, ranging from American comedienne Joan Rivers to TV host David Frost, before Charles and Camilla fly off to Scotland for their honeymoon.

Security was extra tight around Windsor with marksmen on rooftops, officers mingling in the crowd and police with sniffer dogs patrolling the route.

Memories of the glamorous Diana, who died in a Paris car crash a year after she and Charles divorced in 1996, remain strong and the possibility of a protest by her supporters was among police concerns.

After delicate backroom negotiations with the British establishment, Charles, 56, and Camilla, 57, won tacit approval of church and state.

In the church service, a penitent Charles was due to acknowledge and solemnly bewail his "manifold sins and wickedness" and promise to be faithful to Camilla.




Today's Top News
Top World News

US, China to hold regular senior-level talks




Lien Chan expected to visit mainland in May




Nation steels itself against further price hikes




People stage anti-Japanese rally in Beijing




Living in the lap of luxury stirs debate




Legislator turns out to be robbery suspect