Lien Chan expected to visit mainland in May
(Agencies)
Updated: 2005-04-09 15:10
Lien Chan, leader of Taiwan's main opposition Kuomintang (KMT) party, is expected to make an historic visit to the mainland in May, KMT spokeswoman Cheng Li-wen said.
"Chairman Lien is likely to visit Nanjing, Beijing and perhaps Xi'an in a peace trip which will begin as early as next month," she said.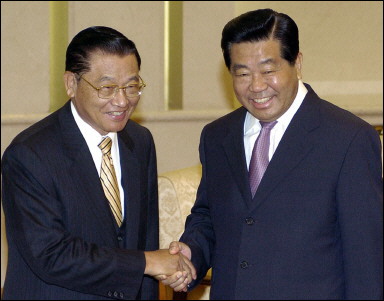 Taiwan KMT party vice chairman Chiang Pin-Kung, on the left, shakes hands with Jia Qinglin, chairman of China's CPCCC. The leader of the KMT, Lien Chan, is expected to follow Chiang with a visit to the mainland in May. [AFP/file]

"We are not sure at this moment if Lien will meet (CPC General Secretary) Hu Jintao during the visit," she said, adding Lien's schedule is yet to be finalized.

Taiwan's Apple Daily reported Saturday that Lien will leave for the mainland on May 10 and is expected to receive the "highest treatment" from Beijing, including a meeting with Hu.

The Communist Party of China (CPC) last week extended an invitation to Lien while a KMT delegation, led by vice chairman P.K. Chiang, was on the first "bridge-building" trip to the mainland in more than 55 years.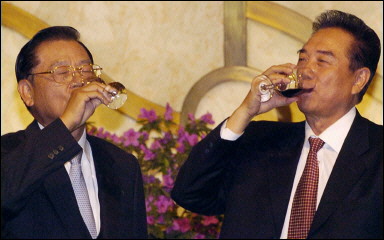 Taiwan's KMT party vice chairman P.K. Chiang (L) and Minister of Taiwan Affairs Office Chen Yunlin (R) have a toast during a meeting with Chinese officials in Beijing. The KMT delegation has spent its first official visit to Beijing pushing vigorously for more economic and trade cooperation. [AFP/file]

Taiwan's ruling Democratic Progressive Party (DPP) has accused the KMT of being a "communist propaganda tool" for visiting the mainland after Beijing passed an anti-secession law.

Taiwanese prosecutors are also investigating if the KMT broke the law by reaching a "10-point consensus" with Beijing to seek closer ties in areas ranging from air transport to investment in agriculture.

The legal move irritated the KMT.

"A government unable to properly handle cross-Straits problems now wants to use the law against us. This is ridiculous, isn't it?" Lien said Wednesday.

Cross-Strait tensions have risen since Chen Shui-bian of the independence-leaning DPP won the "presidency" in 2000, ending the KMT's 51-year grip on power. He was re-elected last year.




Today's Top News
Top China News

US, China to hold regular senior-level talks




Sri Lanka visit to upgrade partnership




Britain admits Iraq intelligence was wrong




People stage anti-Japanese rally in Beijing




Lien Chan expected to visit mainland in May




Nation steels itself against further price hikes