Misery is over for panda with a giant case of toothache
By Qin Yan (China Daily)
Updated: 2005-04-09 06:26
After a successful dental procedure, giant panda Xiaopingping can get on with eating, free of pain.
The relieved 17-year-old, a grandpa by his age, became the first panda in China to receive such treatment.
Doctors from the Huaxi (west China) Institute of Stomatology, part of Sichuan University in Chengdu in southwestern Sichuan Province, put fillings in the root canals of three of the panda's teeth.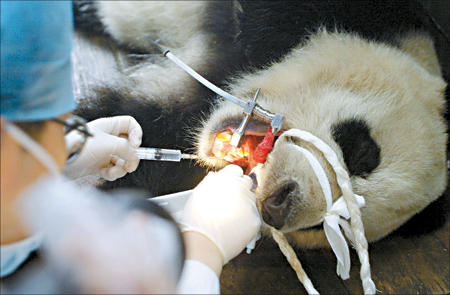 Pandering to special patient's needs. Giant panda Xiaopingping, 17, receives fillings. He became the first panda to sit in the dentist's chair and complete the operation on Thursday. At his age, Xiaopingping is a grandpa panda.[newsphoto]

Thursday's operation took about two hours.

Meanwhile, 18-year-old Bobo had two of his teeth disinfected, the first step in root canal therapy, according Li Jiyao, one of the doctors.

Both male pandas live at the Chengdu Panda Base, home to more than 40 giant pandas.

Doctors will undertake the second step of the operation to clean up the root canals of Bobo's two teeth in two weeks time.

As they get older, pandas' teeth rub and become damaged while they eat, Li said.

She said they firstly disinfected Xiaopingping's troublesome teeth last September, after they heard the panda had difficulty eating.

In February they thoroughly cleared out his root canals.

Wang Chengdong, head of the animal hospital at the base, said the process was prolonged because the panda was mating with females during that period.

Wang said a third panda living at the base was found to have a similar problem, and will soon be treated.

"We are carrying out a thorough check to see if any other pandas have got the affliction," he said.

According to Wang, eight of the 12 female pandas at the base have mated this year. The rest will complete mating by early June.

But whether or not they can get pregnant and finally give birth is unknown, he added.

The extremely low birth rate among pandas threatens to push the animals to the brink of extinction.

Pandas, usually living to 20-26 years, are among the world's most endangered wildlife species.

Statistics from the State Forestry Administration show the number of pandas in the wild in China has risen from about 1,100 in the late 1980s to 1,590 currently.

At the same time, about 160 live in captivity.




Today's Top News
Top China News

FM rebuts US threat of economic sanctions




Poll: American views on China improving




EU guide on textiles 'violates WTO rule'




Taiwan limits cross-Straits exchanges




Boeing says insulation blankets 'no problem'




Millions bid farewell to Pope at funeral