Annan: U.N. needs permanent rights body
(Agencies)
Updated: 2005-04-08 09:44
The United Nations needs a new, permanent human rights body with greater authority, possibly on par with the powerful Security Council, to combat appalling abuses around the world, Secretary-General Kofi Annan said Thursday.
Annan said in a speech to the 53-nation Human Rights Commission that the current structure is failing to do what is needed, particularly in Sudan's conflict-ravaged Darfur region.
"We have reached a point at which the commission's declining credibility has cast a shadow on the reputation of the United Nations system as a whole, and where piecemeal reforms will not be enough," Annan told delegates, who responded with a standing ovation.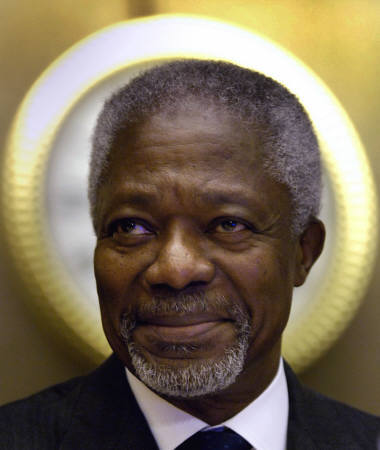 U.N. Secretary General Kofi Annan smiles after addressing the 61st Session of the Commission on Human Rights at the U.N. headquarters in Geneva April 7, 2005.[Reuters]

As part of a package of reforms unveiled last month, the secretary-general proposed a human rights council to replace the present commission. He said then that member states should decide whether the council should be a principal organ of the United Nations, like the Security Council and the General Assembly, or a subsidiary body of the General Assembly.

"I argue that no one can claim complete virtue when it comes to human rights application, and that the new council should have the opportunity periodically of looking at human rights records of every country, and that we should be able to apply the rules fairly and consistently across the board," Annan told reporters after the speech.

Annan singled out Darfur, where the Sudanese Arab-dominated government is accused of responding to a rebel movement with a counterinsurgency campaign that has led to wide-scale abuses against the African population.

Last year, the commission stopped short of formal condemnation of Sudan, which has denied links to the violence. Even formal censure involves no penalties, but draws attention to a country's record.

"The commission's ability to perform its tasks has been overtaken by new needs, and undermined by the politicization of its sessions and the selectivity of its work," Annan said. "The council would allow for a more objective approach. And ultimately it would produce more effective assistance and protections."

An estimated 180,000 people have died in the Darfur upheaval, mostly from disease and starvation. About 2 million others have been displaced since the conflict began in February 2003, when rebels took up arms against what they said was years of state neglect and discrimination against Sudanese of African origin.

"For thousands of men, women and children (in Darfur), our response is already too late," Annan said.

Under Annan's reform proposal, council members would be elected directly by the General Assembly by a two-thirds majority and fulfill specific human rights criteria, rather than by selections from regional groups as is the case with the commission.

"The new human rights council must be a society of the committed. It must be more accountable and more representative," Annan said.

A number of countries and campaigners have pushed for more stringent eligibility criteria for the top U.N. human rights watchdog.

As a standing organ of the United Nations, the body would able to meet when necessary, addressing human rights violations as they arise. The present commission meets only once a year for six weeks, although it can be called to an emergency session by a majority of members.

"Today we have reached another moment when we must prove our commitment," Annan said. "A human rights council would offer a fresh start."




Today's Top News
Top World News

FM rebuts US threat of economic sanctions




Poll: American views on nation improving




EU guide on textiles 'violates WTO rule'




Tough task ahead to curb speculation




Boeing says insulation blankets 'no problem'




Beijing to see electricity price hike