U.N. OKs probe of Lebanon ex-PM's killing
(Agencies)
Updated: 2005-04-08 08:50
The U.N. Security Council voted unanimously Thursday to authorize an international investigation into the assassination of former Lebanese Prime Minister Rafik Hariri.
The resolution — co-sponsored by the United States, France and Britain — urged the independent commission to complete its work in three months but gave Secretary-General Kofi Annan authority to extend its mandate for an additional three months if necessary.
Hariri's Feb. 14 killing in a bombing caused an uproar in Lebanon, sparking massive anti-Syrian street protests. The Lebanese opposition claimed Syria orchestrated the killing. Syria denies any involvement.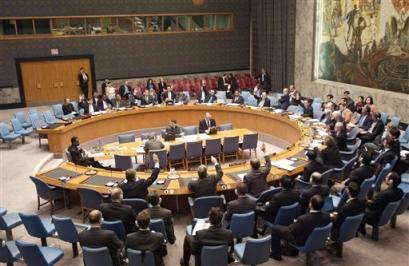 In this picture provided by the United Nations, the Security Council votes to authorize an international investigation into the killing of former Lebanese Prime Minister Rafik Hariri, at U.N. headquarters Thursday, April 7, 2005.[AP]

The resolution follows last month's U.N. report by a fact-finding team which concluded that a Lebanese probe did not meet international standards. The team, led by deputy Irish police commissioner Peter Fitzgerald, called for an entirely new investigation by an outside team.

Lebanon has promised to cooperate with an independent investigation, but the council rejected amendments proposed by the government that would have given it a major role in the inquiry.

The resolution authorized an international commission to assist Lebanese authorities in their investigation, but it left the commission to decide what role Lebanese authorities would play.

"It is very important that the facts of this tragic event are known and we are pleased the council has adopted this resolution," U.S. Deputy Ambassador Stuart Holliday said. "We have a commitment from the government of Lebanon to cooperate with the commission. We would be very surprised if they didn't honor their commitment."

France's U.N. Ambassador Jean-Marc de La Sabliere agreed, saying: "There will be cooperation and I'm confident that the commission will be able to do the job."

The resolution welcomes Lebanon's approval of the independent probe but the council rejected amendments proposed by the government that would have given it a major role in the inquiry.

It also called on the Lebanese officials to give the investigators access to all their documents and evidence. The commission also was given authority to collect additional information and evidence and "to interview all officials and other persons in Lebanon that the commission deems relevant to the inquiry."

Council members, however, were reluctant to say whether this meant the investigators could have access, for example, to the presidential palace or to interview Lebanese President Emile Lahoud.

Lebanon has been in turmoil since Hariri's assassination in a massive bombing on a Beirut street that also killed 19 other people. Hariri's opposition supporters have accused Lebanon's pro-Syrian government and Syria of being behind the assassination.

The bombing triggered anti-Syrian demonstrations and an international uproar that forced Damascus to begin withdrawing its army from the neighboring country after nearly three decades of dominating it. Syria has said all its troops and intelligence agents will be out of Lebanon by the end of April.

Syria, meanwhile, accelerated the pace of its withdrawal, and a senior Lebanese military official said on condition of anonymity that the "final stage" of the pullout had begun.

Late Thursday, scores of Syrian military trucks carrying 50 tanks, 30 armored personnel carriers and dozens of trucks carrying ammunition and scores of soldiers crossed into Syria from Lebanon, witnesses said. Most of the forces that pulled out were based on the hills of Dahr al-Baidar, around the town of Qabb Elias and the western Bekaa Valley, they added.




Today's Top News
Top World News

FM rebuts US threat of economic sanctions




Poll: American views on nation improving




EU guide on textiles 'violates WTO rule'




Tough task ahead to curb speculation




Boeing says insulation blankets 'no problem'




Beijing to see electricity price hike