Tough task ahead to curb speculation
By Chen Hua (China Daily)
Updated: 2005-04-08 07:00
Editor's Note: Curbing the rise in property prices is a priority of the central government's agenda this year. China Daily is running a series of stories to analyze China's property market. Although not yet recording skyrocketing price rises already seen in Shanghai, Beijing will find it difficult to keep future price rises within an acceptable range. China Daily reporter Chen Hua analyzes the challenges the capital faces.
Beijing is facing great pressure to curb speculation and keep the property market healthy, with reasonable prices increasing moderately and balanced supply and demand, market observers said yesterday.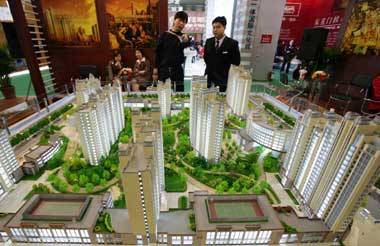 Visitors check a property complex model at a housing exhibition in Beijing April 7, 2005. Beijing faces great pressure to curb speculation and the property market bubble. [newsphoto]

With the average property price rising at a stable 5 per cent annually in recent years, Beijing is not listed among the nine cities with increases of more than 10 per cent in 2004, according to the Beijing Construction Committee.

Statistics from the committee even show that in the first two months of this year the average price for houses under construction fell by 1 per cent in the city.

However, analysts say the figures do not reflect the real situation.

"This is only the average price based on all the property projects, including the large numbers of affordable houses and projects in the outlying areas in the city," said Wang Yongde, a property analyst at CITIC Securities.

Prices in downtown Beijing and highly commercial districts such as Chaoyang have soared.

The prices of many houses in these areas have doubled or even tripled in the past two years.

The average price at SunStar City, a property project by the side of the Northeast Third Ring Road, has risen to 9,000 yuan (US$1,084) per square metre from 6,300 yuan (US$760) in mid-2003.

"Beijing is also under great pressure to stem high property prices because there are many potential elements to drag the real estate market into disorder," Wang said.

Experts say the biggest factor behind the high prices is simply the lack of a sufficient housing supply.

Although figures from the Beijing Municipal Bureau of Land and Resources show that the municipal government approved about 19.5 million square metres more for development than in 2003, much of the land is still awaiting the start of construction due to a capital shortage in the wake of the strict loan policy unveiled last year.

Statistics from the Beijing Construction Committee also show the house selling rate in the first months of the year jumped 18 per cent to 130 per cent compared to the same period last year.

The rate of housing supply is well behind that of demand as the city speeds towards greater urbanization, said Fu Wenhui, head of a private property consultancy in Beijing.

Property speculation and enthusiasm for property investment are also exacerbating the supply shortage and the high housing prices, according to Wang at CITIC Securities.

The profit rate from office leasing in Beijing is about 8 per cent, much higher than 3 to 5 per cent in overseas cities.

Many investors buy homes to rent, using this income to pay for a mortgage. The central bank's housing loan interest rate increase will not make much of a difference to the property market. Regulators have to do more to help develop a healthy property market, according to Wang.

First of all, the municipal government should build a housing welfare system and develop special property projects providing people with more affordable housing, said Zhang Yan, a researcher at China Securities.

"Housing is a social problem. The government is responsible for helping people get settled and should not leave it totally to the market," said Yan Jinming, a professor at the Land & Real Estate Management Department of the Renmin University of China.

If the supply and demand problem is solved, prices will probably fall, said Zhang.

On the other hand, to develop a competitive market for developers is also important. Many developers acquire land from the government but have no money to build houses.

Although the municipal government ruled in 2002 that approved land that is not built on within two years should be taken back and resold to more capable developers, this is not stringent enough, according to Yang Liqing, a researcher at CITIC Securities.

Experts say the central bank's down payment increase is helpful in curbing speculation but it should be strictly carried out. The lenders should get a grip on house-buyers' loan applications.

Meanwhile, Beijing can follow Shanghai in levying a tax on profits generated from selling houses owned for less than one year.

(China Daily 04/08/2005 page10)




Today's Top News
Top China News

FM rebuts US threat of economic sanctions




Poll: American views on China improving




EU guide on textiles 'violates WTO rule'




Tough task ahead to curb speculation




Boeing says insulation blankets 'no problem'




Beijing to see electricity price hike