Poll: American views on China improving
By Wu Yixue (China Daily)
Updated: 2005-04-08 06:39
China's popularity is growing in the United States, with larger portions of the public and business community viewing the country favourably.
A survey released on Wednesday by the Committee of 100 a group of prominent US citizens of Chinese descent showed that 59 per cent of Americans hold a favourable view of China, up from 46 per cent in 1994. The poll also showed that 63 per cent of top executives held the same view.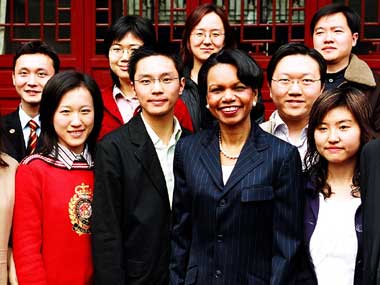 US Secretary of State Condoleezza Rice poses for a photo with Peking University students during her visit to the university March 21, 2005. A recent poll found that 59 per cent of Americans hold a favourable view of China, up from 46 per cent in 1994. [newsphoto]

"The improvement of Americans' attitude should be attributed to a shift in US foreign policy towards China in recent years," said Yan Xuetong, director of the Institute of International Studies at Tsinghua University.

For some years after the end of the Cold War, the United States had exaggerated the strategic threat posed by China, creating a generally negative impression, Yan said.

"Since the September 11 terrorist attacks, the US administration of President George W. Bush, however, has shown a desire to work with China in its campaign against global terrorism and proliferation of weapons of mass destruction," Yan said. "Thus, the administration has changed its past tactics of exaggerating China's threat into one of strengthening the country's partnership."

The United States is now looking to work with China on a wide range of international issues, such as the nuclear issue on the Korean Peninsula, Yan said.

The Committee of 100 poll also found that 82 per cent of business leaders and 73 per cent of ordinary people consider Sino-US trade beneficial to the United States.

Only 24 per cent of the public saw China as an economic threat and 15 per cent regarded the country as a military threat.

However, among the congressional staff polled, only 19 per cent held a positive attitude towards China and 54 per cent still considered China an economic threat. And 36 per cent still thought the country posed a military threat.

The poll was conducted by Zogby International and surveyed 203 opinion leaders and 1202 American adults at random in December 2004. Zogby also surveyed 101 mostly senior congressional staff members and 150 American business leaders in March 2005.

In a poll released by the Beijing-based Global Times in February, 52.9 per cent of Chinese respondents said they "generally like" Americans while 13.2 said they "like" them. Also 51.9 per cent said they feel generally satisfied with Sino-US ties.

(China Daily 04/08/2005 page2)




Today's Top News
Top China News

FM rebuts US threat of economic sanctions




Poll: American views on China improving




EU guide on textiles 'violates WTO rule'




Tough task ahead to curb speculation




Boeing says insulation blankets 'no problem'




Beijing to see electricity price hike