Charles and Camilla form royal 'Brady Bunch' family
(Agencies)
Updated: 2005-04-07 17:28
After the wedding bells ring in Windsor on Saturday, Prince Charles and his new bride Camilla Parker Bowles will find themselves at the head of a non-traditional "Brady Bunch"-style family.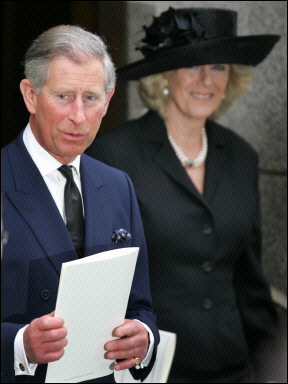 Britain's Prince Charles and his fiance Camilla Parker Bowles. After the wedding bells ring in Windsor on Saturday, Prince Charles and his new bride will find themselves at the head of a non-traditional 'Brady Bunch'-style family, two divorced parents bringing their children from past marriages to form a new family. [AFP]


The union will look a bit like the old US sitcom and modern Britain itself -- two divorced adults who bring their children from past marriages with them to form a new family.

The British heir to the throne has his sons Princes William, 22, and Harry, 20, from his marriage to the late Princess Diana.

Parker Bowles, who divorced from Andrew Parker Bowles in 1995, is mother to 30-year-old Tom and Laura, 26.

The children get along well, although they are not close, and say they are happy to see their parents happily remarried.

But the royal princes could harbor lingering doubts about the woman their mother dubbed the "Rottweiler" and blamed for wrecking her marriage to Charles.

Diana, describing her breakup with Charles and their divorce in 1996, famously quipped once that "there were three of us in this marriage so it was a bit crowded".

Diana died a year after the divorce, in a car crash in Paris, but even eight years later is revered by many Britons who deride Parker Bowles as "Cowmilla" and dismiss her as a poor replacement for the original Princess of Wales.

Early sweethearts, Charles and Parker Bowles remained close throughout their respective marriages, and their romance apparently rekindled in 1986, shortly after Harry's birth.

William and Tom, the two eldest sons, will serve as witnesses at the couple's wedding in the Guildhall in Windsor, west of London.

All children will be in attendance for the event, as well as Charles's siblings Princes Andrew and Edward and Princess Anne, although his parents Queen Elizabeth II and Prince Philip will be absent.

While William wins Britons' admiration for his dashing good looks and seemingly sage conduct as a St. Andrew's University student on the verge of graduating, Harry has gained a reputation as the most wayward of royals, a playboy gifted at wracking up scandals.

Both lead independent lives and are unlikely to spend their free weekends with their father and stepmother at Clarence House, Charles's London residence.

Tom Parker Bowles shares his mother's extroverted charms, and reportedly grew close to the princes after Diana's death.

But tabloid revelations in 1999 that he had taken cocaine were yet another unwelcome scandal dropped on the royal family's doorstep.

Since then the well-bred boy, educated at elite Eton school and Oxford University, has seemed to fall into rank. He has written a cookbook, penned articles for several newspapers and is engaged to be married in September, five months after his mother.

His sister Laura is the biggest mystery of the four to-be siblings. Having kept largely out of the media limelight, little is known about her except that she runs an art gallery in London, is also engaged to be married and gets along well with her future stepfather, Prince Charles.




| | |
| --- | --- |
| | |
| Has the deceased Pope been embalmed? | |

| | |
| --- | --- |
| | |
| Cameron Diaz takes a tumble | |

| | |
| --- | --- |
| | |
| Former first daughter Chelsea Clinton boozing again | |
Today's Top News
Top Life News

FM rebuts US threat of economic sanctions




Poll: American views on China improving




EU guide on textiles 'violates WTO rule'




Tough task ahead to curb speculation




Boeing says insulation blankets 'no problem'




Beijing to see electricity price hike