Has the deceased Pope been embalmed?
(Agencies)
Updated: 2005-04-07 14:01
The definitive answer lies, of course, with the Pope's doctors and undertakers, and they're keeping quiet.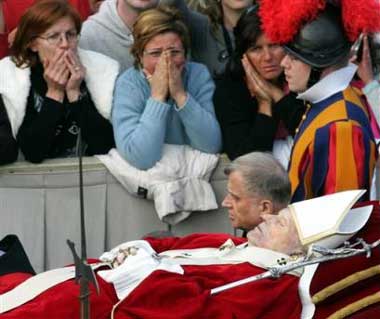 Pope John Paul II's body is carried across St. Peter's square at the Vatican, Monday, April 4, 2005 on its way for public viewing inside St. Peter's Basilica. With tens of thousands of mourners outside hoping for a glimpse of the body, 12 pallbearers flanked by Swiss Guards carried the late pontiff's body on a crimson platform from the Sala Clementina, where it had laid in state since Sunday. [AP]
But reports suggest the Signoracci family from Rome, undertakers who have preserved Popes for generations, may not have been called upon to do their duty this time. The Vatican says the Pope has not been embalmed, merely "prepared" for viewing.
The Pope's body went on public display on Monday and observers noted that no flowers had been used to hide decomposition and his skin had a waxy sheen. But how might he have been "prepared"?
Proper embalming takes a lot of specialist work. "You would make a small incision where there's a superficial artery and you would insert a tube into that artery.
Using an electric pump, you would pump an embalming fluid into that tube and it would hopefully follow the circulatory system around the body," says Karen Caney, spokeswoman for the British Institute of Embalmers.
At the same time, a tube is inserted into a vein to drain blood out of the body. The embalming fluid is made mostly from formaldehyde. Perfumes and dyes are also added to give the embalmed body a more lifelike appearance.
"After you've got enough fluid around the body, you would use a hollow needle which goes into the trunk of the body to drain any fluids out of the internal cavities," says Caney.
"Then you have a cavity fluid which you inject back in through the needle into the internal organs so you make sure that there is no other fluid left in them."
Embalmed bodies can remain on display for months at a time ¡ª Caney recalls a case where a body remained perfectly preserved outside a refrigerator through an entire summer.
If a body is not embalmed, the signs of decomposition can appear very quickly. "Some people can deteriorate extremely rapidly ¡ª so they would be virtually unviewable by the family within a day of death," says Caney.
As an alternative to embalming, the Pope could have just been tidied up and had makeup applied, as his predecessor Paul VI did, who died in 1978, but this seems unlikely.
The Pope's body will only remain on display until tomorrow, when he will be finally laid to rest in St Peter's Basilica in a specially designed, lead-lined coffin.

| | |
| --- | --- |
| | |
| Has the deceased Pope been embalmed? | |

| | |
| --- | --- |
| | |
| Cameron Diaz takes a tumble | |

| | |
| --- | --- |
| | |
| Former first daughter Chelsea Clinton boozing again | |
Today's Top News
Top Life News

FM rebuts US threat of economic sanctions




Poll: American views on China improving




EU guide on textiles 'violates WTO rule'




Tough task ahead to curb speculation




Boeing says insulation blankets 'no problem'




Beijing to see electricity price hike