TV networks to cover Pope's funeral live
(Agencies)
Updated: 2005-04-07 09:18
Several TV networks will provide live coverage of Pope John Paul II's funeral Friday — for Americans who want to get up early or stay up late.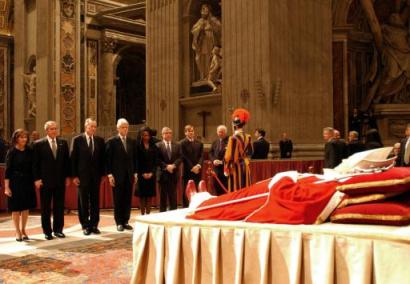 In this photo made available by the Vatican newspaper Osservatore Romano, from left, wife of US President George W. Bush Laura, President W. Bush, his father former President George H.W. Bush, former President Bill Clinton and Secretary of State Condoleezza Rice, pay their respects to late Pope John Paul II as he lies in state inside St. Peter's Baslica, at the Vatican, Wednesday, April 6, 2005. They knelt just a few feet (meters) from the pope's remains, dressed in a crimson robe with a white bishop's miter and will attend his funeral on Friday. [AP]


The funeral is scheduled to begin at 4 a.m. EDT on the East Coast, and will be carried on ABC, CBS, NBC, CNN, Fox News Channel and MSNBC.

Most of the traditional network anchors will be accompanied by experts who will not only help translate the language of the Mass, which will be said in Italian, but explain to viewers what is going on.

For example, CBS anchors Harry Smith and John Roberts will be joined by the Rev. Paul Robichaud, pastor of the American Catholic Community in Rome.

Many viewers at that hour are going to want to focus on the Mass, Smith said in a telephone interview from Rome.

"I want to be able to stay out of it enough for those Catholics to be able to participate in the Mass," said Smith, host of "The Early Show."

It's a new anchor team at CBS, now that Dan Rather has gone back to reporting. ABC's coverage will be led by Charles Gibson, with Peter Jennings unable to attend because of lung cancer. Brian Williams and Katie Couric will co-anchor NBC's coverage from Rome.

Joining Gibson on ABC will be Vatican correspondent Bill Blakemore, who covered the since the day he was elected, and the Rev. Keith Pecklers, professor of theology at Pontifical Gregorian University in Rome.

NBC News will have two experts on hand: the Rev. Thomas D. Williams, theology dean at Regina Apostolorum University in Rome, and George Weigel, a senior fellow at the Ethics and Public Policy Center in Washington and a biographer of the pope.

At that hour, it's difficult for the networks to get a sense of how many people will be watching. But judging by the crowds Smith said he's seen in Rome, it would be wise not to underestimate the interest.

"I don't think anyone here expected the throngs of people that are streaming through the streets to the basilica," he said. "I have a sense that this is a profound moment in the life of this church and in the lives of the faithful."

Except for CBS, most of the networks will be on the air anywhere from an hour to 10 minutes before the Mass is scheduled to begin. MSNBC is pulling an all-nighter.

NBC's affiliated cable news network said it will telecast live all night leading up the funeral (much late-night programming on cable news networks is taped). New MSNBC host Tucker Carlson will be on from midnight to 2 a.m. EDT, Bill Fitzgerald and Natalie Allen will be on from 2 a.m. to 4 a.m., and Mass coverage will be anchored by Chris Matthews and Chris Jansing from Rome.

Fox News Channel's coverage will begin at 3 a.m., anchored by Shepard Smith in Rome and Martha MacCallum in New York.

CNN's set overlooking St. Peter's Square will be staffed by Anderson Cooper, Christiane Amanpour and Bill Hemmer, with Soledad O'Brien in New York.




| | |
| --- | --- |
| | |
| Former first daughter Chelsea Clinton boozing again | |

| | |
| --- | --- |
| | |
| Faye Wong in a race to tie the knot? | |

| | |
| --- | --- |
| | |
| Spanish actress Penelope Cruz | |
Today's Top News
Top Life News

Hong Kong proposes law interpretation on tenure




Wen: China poses no threat to the world




Nuclear power expansion set to spread inland




Experts slam Japan's incendiary school book




US copter crash kills 16 in Afghanistan




Non-leaky lake could spell ecological ruin