US copter crash kills 16 in Afghanistan
(Agencies)
Updated: 2005-04-07 07:55
KABUL, Afghanistan - A U.S. military helicopter returning from a mission smashed into the southern Afghan desert Wednesday, killing at least 16 people in the deadliest military crash since the fall of the Taliban in late 2001. An Afghan official said most of the dead appeared to be Americans.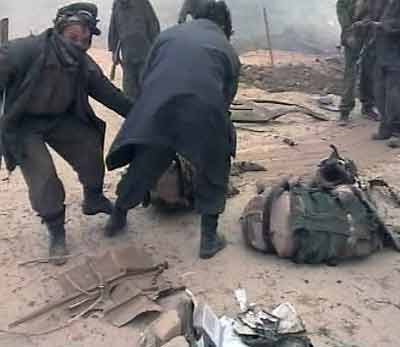 Afghans pull the body of a U.S. soldier clear of the remains of a U.S. military helicopter which crashed during a dust storm in Ghazni province, 120 km (80 miles) southwest of the capital of Kabul in this image taken from television footage April 6, 2005. The U.S. military helicopter crashed during a dust storm while on a routine mission in Afghanistan on Wednesday, killing at least 16 people on board, the military said in a statement. [Reuters]

The CH-47 Chinook was returning to the U.S. base at Bagram from a mission in the militant-plagued south when it went down near Ghazni city, 80 miles southwest of the capital, Kabul.

"Indications are it was bad weather and that there were no survivors," said a U.S. spokeswoman, Lt. Cindy Moore. An Afghan official said there were no signs the craft was shot down.

A U.S. military statement said 16 deaths had been confirmed and two other people listed on the flight manifest were "unaccounted for" when the recovery operation was suspended at nightfall.

A U.S. Chinook helicopter lands as a U.S. soldier covers his face from dust in the village of Jegdelic, about 90 km (56 miles) southwest of Kabul in this December 24, 2004 file photo.The U.S. military helicopter crashed during a dust storm while on a routine mission in Afghanistan on Wednesday, killing at least 16 people on board, the military said in a statement. [Reuters]

U.S. officials said the four crew members killed were Americans, but declined to give the nationalities of the passengers. The names of the victims were being withheld pending notification of next of kin.

Moore said the transport helicopter was returning from a "routine mission" when controllers lost radio contact. A second Chinook made it safely back to the sprawling base north of Kabul.

Associated Press Television News footage showed dozens of Afghan security forces and officials scurrying round burning wreckage. Strong winds that had whipped thick dust into the darkened sky fanned the flames.

Abdul Rahman Sarjang, the chief of police in Ghazni, said the helicopter crached about 2:30 p.m. near a brick factory 3 miles outside the city and burst into flames. U.S. troops rushed to cordon off the area, he said.

Sarjang said he saw nine bodies. "They were all wearing American uniforms and they were all dead," he told The Associated Press by cell phone from the crash site.

Sarjang said that the weather was cloudy with strong winds and that witnesses reported one of the helicopter's two rotors looked damaged before it hit the ground. He said he saw no sign of enemy fire, and militants issued no immediate claim of responsibility

According to U.S. Department of Defense statistics, at least 122 American soldiers had died before Wednesday's incident in and around Afghanistan since Operation Enduring Freedom, the U.S.-led war on terrorism, began after the Sept. 11, 2001 attacks.

Accidents have proven almost as deadly as attacks from Taliban-led insurgents, including a string of helicopter crashes and explosions caused by mines and munitions left over from the country's long wars.

The previous worst incident in Afghanistan was an accidental explosion at an arms dump in Ghazni province that killed eight American soldiers in January 2004.

Most recently, four U.S. soldiers died when a land mine exploded under their vehicle south of Kabul on March 26.

Last November, six Americans — three civilian crew members and three U.S. soldiers — died when their plane crashed in the Hindu Kush mountains. The military's last fatal helicopter crash occurred a month earlier when a pilot was killed in the west of the country.

About 17,000 U.S. soldiers are in Afghanistan battling a Taliban-led insurgency and training a new Afghan army.

The top U.S. commander here, Lt. Gen. David Barno, told AP on Tuesday that the military would also now train Afghan police and provide intelligence to Afghan forces battling the country's rampant drug industry.

Barno said the size of the U.S. force would be reviewed after Afghan parliamentary elections in September.

While U.S. forces focus on the south and east, the Afghan capital has also been shaken by a string of security incidents.

Kabul police said Wednesday they had arrested a man wanted for questioning in the March 7 killing of a British development worker as well as the kidnapping of three U.N. workers last year. The three were seized in October and released unharmed a month later.

The suspect was detained after a gunfight in the capital in which a taxi driver was killed and two police officers injured, the police chief, Gen. Akram Khakrezwal, said.







Today's Top News
Top World News

Hong Kong proposes law interpretation on tenure




Wen: China poses no threat to the world




US Congress harsher on China than public




N. Korean talks could resume in June




China opposes any timetable for UN reform




Nuclear power expansion set to spread inland