Wen: China poses no threat to the world
By Zhao Huanxin (China Daily)
Updated: 2005-04-07 06:31
ISLAMABAD: A more developed and stronger China will pose no threat to the rest of the world, Premier Wen Jiabao told the fourth ministerial meeting of the Asia Co-operation Dialogue (ACD) yesterday.
Speaking at the event's inaugural session, Wen said: "Some people are worried a stronger and more developed China will constitute a threat to other nations. Such a worry is completely misplaced."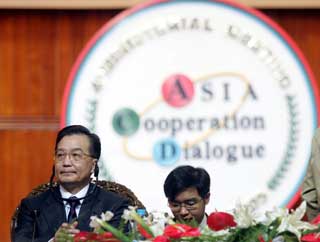 Chinese Premier Wen Jiabao listens to a speech by Pakistan Prime Minister Shaukat Aziz during an inaugural session of the Fourth Ministerial Meeting of the Asian Cooperation Dialogue (ACD) in Islamabad April 6, 2005. A stronger China will never pose a threat to other countries, Premier Wen Jiabao told a meeting of 26 Asian countries on Wednesday. [Reuters]

Asia, one of the most promising and complicated regions in the world, should take up the historic responsibility to usher in a new era of peace, stability, co-operation and development, said Wen, a key-note speaker at the conference.

The premier is on a three-day visit to Pakistan, host of the annual gathering of ACD, whose 26 members are discussing region-wide partnership in a two-day meeting, scheduled to end today.

"It is with sincerity and firmness that China adheres to the path of peaceful development," Wen said. "The Chinese people will always be a trustworthy and reliable partner for the rest of Asia."

The premier's remarks were made in part to respond to the "China threat" concept concocted by some foreign politicians and analysts in recent months, following the country's emerging economic and political influence in the world arena.

For one thing, China's per capita GDP, slightly over US$1,000, is ranked well below 100th place in the world's tally, meaning the country is still a developing country with a long way to go before it is modernized, Wen explained.

The country will continue to concentrate on addressing domestic concerns, he said.

Citing an example of coping with the formidable challenge of exploiting natural resources while protecting the environment, Wen said China has relied largely on its own efforts, while engaging in mutually beneficial collaboration with others, and refraining from interfering in other countries' affairs.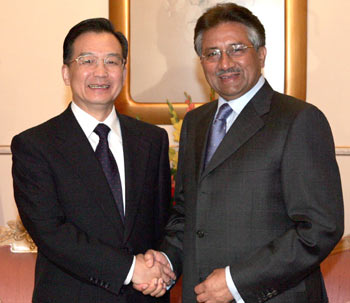 Pakistani President Pervez Musharraf (right) meets with Premier Wen Jiabao prior to a meeting in Islamabad April 6, 2005. [Xinhua]
"Even if we become stronger and more advanced, we will not stand in the way of others, still less become a threat to others," assured the premier, reiterating that China will never seek hegemony.
The path of peaceful development, determined by the requirements of the country's modernization drive, is a growth mode China has found suited to its own national conditions after years of probing forward, Wen said.
The more than 20 years spent travelling the path have not only helped China prosper, but also generated opportunities for other Asian countries while promoting peace and development around the world, the Chinese premier added.
Wen's views were endorsed by his Pakistani counterpart Shaukat Aziz, who said China's spectacular transformation and economic miracle, as well as its emergence as a global economic force, has secured it a unique position to advance the goals of peace and prosperity in the continent.
"The increasing integration of the Chinese economy with other economies of the region is a source of strength and stability for Asia," Aziz told the ACD meeting.
Talking about Asia at large, both Wen and Aziz called the regional continent of opportunities, which requires joint efforts to harness its full potential.
Wen promised China will strengthen security dialogues with other Asian countries, properly handle the issues left over by history, and continue to uphold justice, champion fairness and protect the rights and interests of developing countries.
"Our focus should be on trade and not aid," said Aziz. "Our ultimate goal should be an Asian free trade agreement."
(China Daily 04/07/2005 page1)
Today's Top News
Top China News

WB economist: No hurry for change of yuan rate




Hong Kong seeks law interpretation on tenure




Wen: China poses no threat to the world




China 'strongly objects' to EU textile moves




US Congress harsher on China than public




Experts slam Japan's incendiary school book