The release of every new album by Cui Jian is an event in the history of Chinese rock music. "Show You Colour" is no exception. It is probably more so, for it has been seven years since his last album "Power of the Powerless" came out.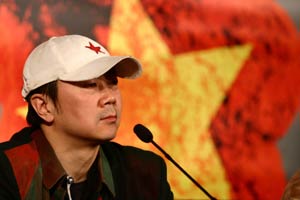 Veteran rocker Cui Jian at a press conference for the release of his latest album "Show You Colour" in Beijing last week.
Fortunately the seven years' waiting has not been in vain. The rich content and refined production of "Show You Colour" distinguish it from all of Cui's previous albums, and probably from any other rock album in China.
The 43-year-old veteran rocker said that he spent most of the time during the last seven years studying production equipment, through which he has discovered more possibilities to make music.
It was in his previous album that Cui tried to adopt a home production method, and now he is at home with it. He not only wrote all the songs of "Show You Colour," but also did the production, recording and mixing.
"The problem of time in producing this album is not that time is too short, but too long," said Cui. "In home production I have a great deal of time, but the more time I have, the more opportunities I have to challenge myself."
On the other hand, he said that the advantage of having his own studio to work in is that it is like writing a diary, in which he can compose little by little, and finish an album naturally when he has accumulated enough material. He was already producing part of this album when he was producing the previous one, and in the process of making this album he is also preparing for the next one.
Diverse styles
Listening to "Show You Colour" one might be impressed first and foremost by its diverse music styles. Sampling of traditional folk songs and instruments, rock, pop, hip-hop and electronic can all be found in it.
This may be natural for Cui, who once declared he cannot listen continuously to three songs of the same style. He remembered that he used to like a compilation tape of some Grammy-award-winning songs when he was very young.
"Why can't I make an album like that?" he asked.
So now here is it. When you listen to "Show You Colour," it is still Cui if you are familiar with his music, but it is definitely not the same one you used to know about.
This is noticeable immediately as the album opens with "City Boatman," a song that combines a 1983 field recording of a northwestern Chinese folk song, Cui's own voice as a counterpart of it, and sampling of the sounds of an engine and door which serve as some kind of percussion instruments.
Cui has tried to employ traditional Chinese musical elements since his first songs, but now he is doing it in another way.
When he used suona (a double-reeded wind instrument) in his classic work "Nothing to My Name" over 20 years ago, he was only adding an instrument to his band.
Now, in "City Boatman," the sample of traditional folk singer Wang Shaoming's "Zui Ba Xian" (The Drunken Eight Immortals) serves as a layer in his cubic musical thinking.
The symphonic effects created by the parallel parts of the folk song, Cui's voice, a saxophone, engine, and guqin (seven-stringed zither) remind one of the similarities between an urban person's living conditions and that of a boatman.
"It is like a prelude to this album, which is filled with comparison between the countryside and the city," said Cui.
The most direct example of such comparison is "Village Attacks City," in which Cui talks about city dwellers in a rural tone.
"What are you proud of/Without us countryside, where do you get your food/Chairman Mao said 'village attacks city'/Now we are here in your place, so what/we don't steal nor rob/what we do is what you don't want to do/you act like a grandson before your leaders/but when you come to us you look like a big cadre."
Besides farmers, Cui casts his eyes on the lives of youngsters in small towns. For example, "Little Town Story V21" tells the story of a young man who fell in love with a girl and left his hometown to pursue wealth. With the background music of "Little Town Story," a hit by the late Taiwan pop singer Teresa Teng (Deng Lijun), Cui depicts the oppression and psychology common among young people in small towns.
As its name indicates, the song is a "21st-century version" of "Little Town Story." Only a small part of the original melody was retained in the interlude, serving as a reminiscence of life in the 1980s.
Three colours
Cui divides the piece into three tracks in the CD, for the nearly 10 minutes' time sounds too long, and the trilogy form seems to be more literary.
In fact, the whole album contains many trichotomies.
After listening several times, you will find that three songs in the album, "Blue Bone," "The Lost Season" and "Mr Red" are actually Cui's different interpretation of the same melody, though they may sound very different at first. "Blue Bone" is hip-hop, while "The Lost Season" sounds like a pop song, and "Mr Red" is typically Cui orthodox rock. The different results of playing on the same melody fully display Cui's musical talent.
In "Blue Bone," which could be regarded as the theme song of this album from Cui's point of view, he sings "Red, yellow and blue represent man's heart, body and wisdom."
These are the three colours that compose the back cover of the CD, and they are the colours that Cui wants to show to the listeners. For the front cover, there are two colour designs, with one red substituted for grey and vice versa.
"I want the shop assistants to ask the customers what colour they prefer," said Cui.
The title of this album "Show You Colour" comes from a dance theatre work of the same title by the City Contemporary Dance Company of Hong Kong in 2001, for which Cui composed the music.
He explained at that time blue stood for electronic music, red for rock and yellow for pop. Now the three colours are embodied in his new album both in terms of music styles and symbolically.
But it is blue Cui pursues. "The blue sky gives me unlimited rationality but they seem to be endurance/only the feeling of unlimitedness gives me unlimited strength/Papa, I'm a Spring flower living in Spring/for my bones are blue." ("Blue Bones")
Blue is also what Cui is after in terms of music forms, if it represents electronic music, which Cui said gives him great freedom in composing.
In "Village Attacks City," he blends electronic music with lyrics sung in the dialect of Shandong Province. He said that the blending created a tension that is consistent with the scene he is depicting.
In track No 6, "Net Virgin," Cui adopts another dialect, that of Tangshan in Hebei Province in the north. By doing this he is not only trying to depict small characters more vividly, but also attempting to break the limit of pronunciation.
The local dialect seems especially penetrating when used in hip-hop music, a style of rapping (emceeing) and DJ-ing which began among African Americans in New York City in the 1970s.
"Hip-hop is a rhythmic music, and language seems to be especially powerful when set to rhythm," says Cui. "I like hip-hop because it makes you face the reality."
Actually Cui began to use rap as early as 1984, when he composed one of his best-known songs "It's Not That I Don't Understand." Since then, his works have been containing less and less melody, for he believes that it is the rhythm that gives people strength.
"I have always been an optimistic person," says Cui. "If my previous album seemed a little dark, the new one is light again."
Coming from an ethnic Korean family, Cui has not forgotten his own cultural heritage. Taking the melody of the Korean folk song "Arirang," "Dance across 38th Parallel" probes the influence of the war.
For his three latest albums, Cui has used the images of children on the covers. The baby on the cover of "Balls under the Red Flag" is in the womb. The infant on the cover of "Power of the Powerless" is playing with a feeding bottle. Now, "Show You Colour" exhibits a clay-sculpture of a grown-up child smiling under the blue sky.
"I want to depict the society that I see through this album," says Cui. "Don't listen to what I say about it. Listen to it."