Former first daughter Chelsea Clinton boozing again
(globemagazine.com)
Updated: 2005-04-06 11:46
Chelsea Clinton has fallen off the wagon and is slinging back cocktails and liquor shots with binge-drinking abandon, revealed worried pals.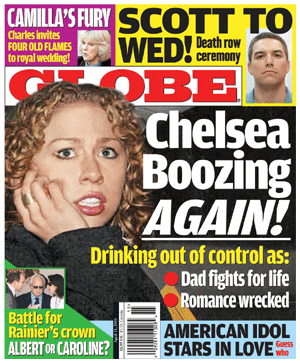 The cover of the latest issue of Globe featuring former first daughter Chelsea's shocked face as she may face a double loss. [Globe]


Friends say Chelsea is hitting the sauce like she did during her party-harty days at Oxford University because she's worried about losing the two most important men in her life--her dad Bill and her boyfriend, Ian Klaus,

"Ian is working as a civilian for the new government in Iraq, and Chelsea knows he could be killed or kidnapped at any time," says a friend.

"Adding to her anxiety is the fact that they parted on a sour note.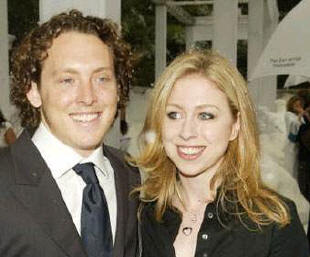 Chelsea Clinton (R) is worried that she may lose her boyfriend Ian Klaus (L). [google]


"At the same time, she is increasingly alarmed over her dad's failing health."

Pals say chelsea, 25, is haunted by fears that Bill Clinton will die before giving her away at her wedding if she does marry Ian--that is, if Ian doesn't get killed first!

"She's such a wreck," adds the friend, "she can't help but drown her sorrows and fears in booze."

The former first daughter's worries began when her father underwent quadruple-bypass surgery in September.


Then Ian, 25, decided to take a job in Iraq that began in January and will keep him there for several more months.


The last straw was a follow-up surgery in March to remove fluid and scar tissue from 58-year-old Bill Clinton's chest, which seemed to leave him looking 10 years older overnight.

"Chelsea is a troubled, scared soul right now, and her way of making it go away is by tossing down the cocktails," one of her Manhattan party pals tells GLOBE.

As recently as March 18, Chelsea got so loaded at the Big Apple hotspot Marquee, she had to be helped out of the place by two bouncers and the club owner--an undignified exit that made the local gossip column.

"She was there to celebrate two of her friends' birthdays," a second pal of Chelsea's tells GLOBE. "But she drank more than anyone else and got wasted--and that wasn't the first time!"

| | |
| --- | --- |
| | |
| Former first daughter Chelsea Clinton boozing again | |

| | |
| --- | --- |
| | |
| Faye Wong in a race to tie the knot? | |

| | |
| --- | --- |
| | |
| Spanish actress Penelope Cruz | |
Today's Top News
Top Life News

Hong Kong proposes law interpretation on tenure




Wen: China poses no threat to the world




Nuclear power expansion set to spread inland




Experts slam Japan's incendiary school book




US copter crash kills 16 in Afghanistan




Non-leaky lake could spell ecological ruin