Saudi forces kill 14 Islamic militants
(Agencies)
Updated: 2005-04-06 10:01
Saudi security forces stormed a walled compound Tuesday where Islamic militants had been barricaded for days, ending the kingdom's largest gunbattle yet and killing 14 armed extremists, including top leaders in the Saudi branch of al-Qaida.
At least six others were captured during three days of heavy firefights in the desert town of Rass, state-run television said, reporting the death toll and citing security officials after the battle was over. Fourteen members of the security forces were wounded.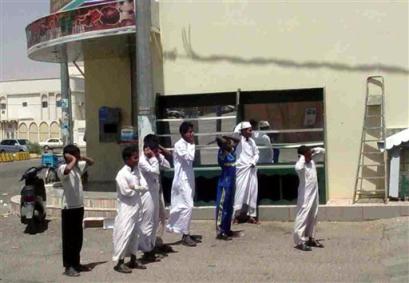 Saudi boys cover their ears as they crowd to watch clashes at al-Rass,(355 kilometers) 220 miles northwest of the capital, Riyadh, Saudi Arabia Tuesday, April 5, 2005 where a three-day shootout between Saudi security forces and suspected Islamic extremists reportedly left 14 armed extremists dead.[AP]

"There was no chance for anyone to escape. We got them all," Interior Minister spokesman Brig. Gen. Mansour al-Turki said.

The standoff ended when security forces stormed the partially built walled villa compound Tuesday night, but he would not confirm the number of people killed and captured.

The size and ferocity of the battle in Rass, 220 miles northwest of Riyadh, suggested the security forces had uncovered a major cell of the al-Qaida-linked militant networks that the kingdom has battled in a crackdown launched in 2003 following a string of deadly suicide bombings.

For nearly 48 hours, up to 10 gunmen who survived initial fighting Sunday were holed up in the villa compound with a large arsenal of weapons. Surrounded by hundreds of Saudi special forces, they fired heavy volleys of automatic weapons fire and grenades.

Residents said they heard a furious 30-minute long exchange of gunfire as troops stormed the villa and police cars streamed into the area.

"We could hear all the action but we couldn't see anything. It sounded like fireworks at a wedding," said Mahboob Alam, 21, a Bangladeshi worker in an ice cream parlor.

After the fighting was over, security forces closed off parts of Rass, a conservative town with mosques on nearly every corner in a region of the kingdom known for its hardcore fundamentalists. An Associated Press reporter in the town saw half a dozen ambulances leaving the village, their sirens blaring.

It was the longest single gunbattle against the largest band of militants that Saudi forces have faced in the two-year crackdown — and the highest number of militant casualties in a single fight. Previously, the highest was six militants killed in July 2003 when police raided a farm in Qassim, near Rass.

The dead from the Rass fighting included Nos. 4 and 7 on Saudi Arabia's list of 26 most-wanted terrorists — Moroccan Kareem Altohami al-Mojati and Saudi Saud Homood Obaid al-Otaibi, a leading figure in al-Qaida's branch in Saudi Arabia and the Gulf region — a senior military official in Rass said on condition of anonymity.

Al-Mojati, a veteran "mujahed" who had been in Afghanistan, was sent to Saudi Arabia by bin Laden sometime after 2001 to help build al-Qaida's network there, former militants told AP. The kingdom's branch of al-Qaida was led by Saudi Abdulaziz al-Moqrin, until he was killed by Saudi police in June, and he was replaced by another Saudi, Saleh al-Aoofi.

Al-Mojati was also suspected of helping plan the May 2003 suicide bombings in Casablanca, Morocco, that killed 33 bystanders and 12 suicide bombers, Saudi newspapers reported.

The shootout began Sunday when security forces, acting on a tip, moved on a building in the Jawazat district of Rass. Militants opened fire on the police with automatic rifles and grenades, sparking a clash with police that killed three suspected terrorists.

The remainder fled to the villa. Seven more militants were killed in firefights Monday and early Tuesday.

For hours Monday and Tuesday, police called out with loudspeakers demanding the gunmen surrender, but the only responses were bursts of gunfire and grenades. Police said they saw the bodies of gunmen inside the compound, apparently killed in the shootout.

Saudi Arabia, the birthplace of bin Laden and 15 of the 19 Sept. 11 suicide hijackers, launched its own "war on terror" after a string of suicide bombings, kidnappings and gunbattles that began in May 2003. The attacks, which have tended to target foreign workers, have been blamed on al-Qaida and allied militants.

Since it launched its crackdown, the police have killed or captured 23 of the figures on Saudi Arabia's initial list of 26 wanted militants — including al-Mojati and al-Otaibi — though other leaders, like al-Aoofi, are believed to have risen to fill militant leadership ranks in the past two years.




Today's Top News
Top World News

Japanese textbook distorts history, stirs fury




400,000 to relocate for water project




Possible US textile safeguards draw criticism




China, Pakistan sign cooperation treaty




Shrine visit angers both sides of Straits




People flock to honour Yellow Emperor