Blair calls national election on May 5
(Agencies)
Updated: 2005-04-06 09:03
Britain's Prime Minister Tony Blair asked for a third term on Tuesday, calling a national election for May 5 that he is expected to win despite the unpopular Iraq war, continued public grumbling about public services, and an apparent drop in his opinion poll lead.
"It's a big choice and there's a lot at stake," Blair said after Queen Elizabeth II granted his request to dissolve Parliament. "The British people are the boss and they are the ones who will make it."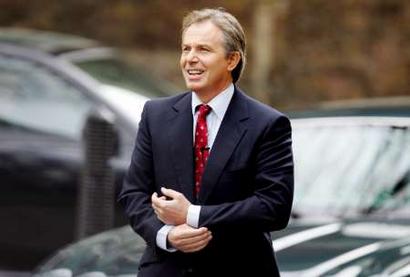 Britain's Prime Minister

Tony Blair

arrives back in Downing Street before announcing the date of the general election, in London April 5, 2005. Blair confirmed on Tuesday that Britain will vote in a new government at a May 5 general election as polls suggested a real contest for the first time since 1992. [Reuters]

Blair is seeking a third term in office — his last, he has said — after eight years in power, commanding a huge majority in the House of Commons.

Opinion polls published Tuesday showed Blair's Labour Party running anywhere from 2 points to 5 points ahead of the opposition Conservatives — more or less a statistical dead heat.

But Britain's electoral system favors Labour, whose share of the vote is spread more efficiently across the country, and analysts say Conservative leader Michael Howard needs to grab a lead of around 8 points to have a shot at winning. It is more likely, analysts say, that Blair will win with a reduced majority in the Commons.

Still, Blair's position is nothing like the double-digit poll leads Labour racked up before the 2001 election. And he may be vulnerable to apathy among his supporters — a MORI poll showed Conservatives more likely to vote than Labour supporters.

"Hardworking families — honest people who do the right thing, who respect others, who provide for their children, who look after their homes and contribute to their communities — are being taken for granted by Mr. Blair," Howard said.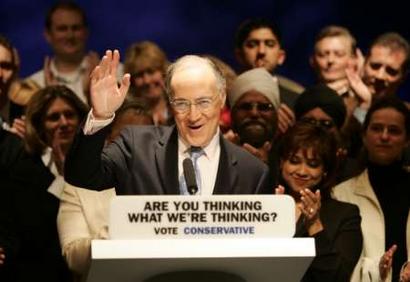 The leader of Britain's opposition Conservative Party Michael Howard launches his party's election campaign in the West Midlands at the International Conference Centre in Birmingham, central England, April 5, 2005.[Reuters]

Howard has highlighted issues including immigration, education and health care. But he has been unable to capitalize on discontent about the Iraq war, because he and his party supported it.

Britain's participation in invading in Iraq, based on what proved to be false claims that Saddam Hussein threatened the region with weapons of mass destruction, overshadowed Blair's second term.

Critics accuse Blair of strong-arming his attorney general to declare that the war was legal. The prime minister denies any such pressure.

The government has also faced accusations, ruled unfounded by several official inquiries, that it manipulated shaky intelligence on WMD to bolster the case for military action.

Blair changed Britain's political landscape early in his first term, winning referendums to give a degree of self-government to Wales and Scotland, and then coaxing Northern Ireland's parties into a peace agreement which still holds despite the collapse of local government there.

Blair also pushed through a reform of the House of Lords, ejecting most of the hereditary members, but the government still has not decided on a new way of selecting members.

With the public, however, opinion polls show that what counts most is the government's record on health, schools and the economy.

If the election is about the economy, Blair should be OK. Some 68 percent of the sample in an ICM poll published Tuesday agreed that the economy is doing well.

The prime minister was his party's great electoral asset in 1997, a fresh face who called his party "New Labour," ditched its traditionally socialist image, and wooed the middle class and business vote.

But his credibility and trust ratings have dived. A Populus poll published Tuesday found that 73 percent of the sample thought Blair had a secret policy agenda, 60 percent thought he said what he thought people wanted to hear, and 51 percent thought he had shown bad judgment in a crisis. However, 66 percent rated him a strong leader, compared with 42 percent who had the same opinion of Howard.

Labour has a massive lead in the 659-seat House of Commons, with 410 lawmakers — 161 more than all the other parties combined.

Most believe that such a lead is insurmountable. But Labour officials fear that a low turnout by core Labour supporters, coupled with a voter backlash over the war, could substantially cut the government's majority — potentially undermining Blair's authority.




Today's Top News
Top World News

Japanese textbook distorts history, stirs fury




400,000 to relocate for water project




Possible US textile safeguards draw criticism




Wen arrives in Pakistan for official visit




Shrine visit angers both sides of Straits




People flock to honour Yellow Emperor