Shrine visit angers both sides of Straits
By Wu Yixue (China Daily)
Updated: 2005-04-06 06:35
Political parties and people from across the Taiwan Straits have been strong in their criticism of Su Chin-chiang, chairman of the pro-independence Taiwan Solidarity Union (TSU), who visited the Yasukuni Shrine in Tokyo on Monday.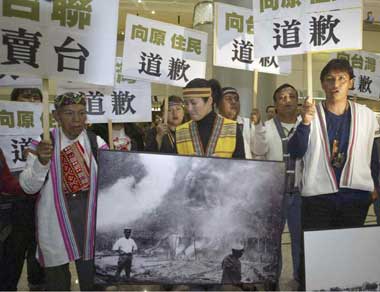 Aboriginal residents in Taiwan protest to denounce Su Chin-chiang, chairman of the Taiwan Solidarity Union, who visited Yasukuni Shrine April 4, 2005. They demanded Su to apologize. [newsphoto]

The trip to the shrine, where 14 Japanese Class-A war criminals are honoured along with other war dead, has put Su firmly in the firing line.

Taiwan's regional lawmaker Kao-Chin Su-mei voiced her strong objection to Su's visit.

"Japan launched over 160 battles to destroy Taiwan's native people during its 51-year colonization of the island," he said.

"We strongly protest the TSU's visit to the Yasukuni Shrine. It is an insult to Taiwan's native people," she was quoted as saying by Taiwan media.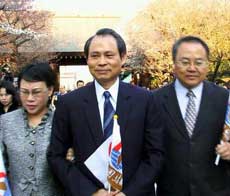 Taiwan Solidarity Union Chairman Su Chin-chiang (C), accompanied by other party "lawmakers", visits the Yasukuni Shrine in Tokyo, where some convicted Japanese war criminals are honored along with the country's war dead April 4, 2005. Su and others were the first leading Taiwan politicians to visit the Tokyo war shrine viewed by critics as a symbol of Japan's past militarism, Kyodo news agency said. [Reuters]

The Kuomintang has also condemned the visit. It said the Yasukuni Shrine, which represents Japan's militarism, has always had a negative image among Asian people. The People First Party also expressed its regret, saying it was extremely inappropriate for Su, as head of the party, to visit the shrine.

Su's actions have received similar condemnation from the mainland.

"Su's visit to the Yasukuni Shrine demonstrates some Taiwan pro-independence forces' Japan fixation," said Wang Chang, a Beijing-based civil servant.

"By paying a visit to the controversial shrine, Su has proven himself a person that has completely forgotten his ancestry," said Yang Lei, a Beijing medical worker.

The Yasukuni Shrine issue has long been at the heart of the stalled political relations between Japan and its neighbours who fell victim to Tokyo's wars of aggression.

(China Daily 04/06/2005 page2)




Today's Top News
Top China News

Japanese textbook distorts history, stirs fury




400,000 to relocate for water project




Possible US textile safeguards draw criticism




Wen arrives in Pakistan for official visit




Shrine visit angers both sides of Straits




People flock to honour Yellow Emperor