Japanese textbook distorts history, stirs fury
By Hu Xiao, Song Wenwei (China Daily)
Updated: 2005-04-06 06:28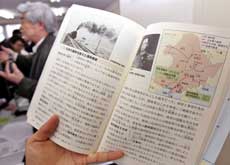 A controversial textbook, written by nationalist scholars for junior high schools, is displayed during a news conference held by civic groups opposed to the approval of the new version of the textbook in Tokyo April 5, 2005. Japan's Ministry of Education approved on Tuesday a revised version of the textbook that critics say whitewashes Japan's militaristic past, further fraying already tense ties with China and South Korea. [Reuters]

China urged Japan yesterday to "correctly view" history, after Tokyo approved a new edition of a controversial junior high school history textbook that critics say "whitewashes" Japan's past history of aggression.

The Chinese Government expressed its strong indignation at the approval of the right-wing inspired textbook which "confounds black and white," said Vice-Foreign Minister Qiao Zonghuai.

Qiao urgently summoned Japanese Ambassador Anami Koreshige yesterday afternoon and lodged solemn representations against the textbook , saying the essence of the issue is whether Japan can accurately view its history of militarism and aggression.

"The textbook will be vehemently condemned by people from all Asian countries that have been victimized by Japan, including the Chinese," said Qiao, demanding the Japanese Government honour its commitments regarding history and calling for measures to offset any negative impacts it may have.

According to the Foreign Ministry, Chinese ambassador to Japan Wang Yi delivered a similar representation to the Japanese Government in Tokyo yesterday afternoon.

The Japanese Education Ministry yesterday approved the controversial book published by Fuso Publishing as one of eight that can be used to teach students aged 13 to 15 from April 2006.

The book is an updated version of the one which triggered formal protests from Beijing and Seoul upon its release in 2001. The book was adopted in 2002 by only about 0.03 per cent of schools following objections from local education boards and teachers.

The updated book refers to the 1937 Nanjing Massacre - in which some historians say at least 300,000 civilians and disarmed soldiers were killed by Japanese invading troops - as an "incident" in which "many" Chinese were slain.

Japan's move is likely to spark protests and hurt the country's already strained relations with Beijing and Seoul over historic and territorial disputes, analysts said.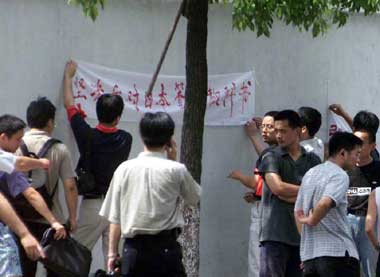 Dozens of protesters gather in front of the Japanese consulate in Shanghai to denounce Japan's approval of a distorted history textbook in this August 15, 2001 file photo. In the history textbook approved for use in 2006, Japanese education ministry demanded 124 changes to tone down some of the right-wing assertions, but other deeply controversial points remain. [newsphoto]

"We all know that invading Japanese troops committed monstrous crimes against local people in the 1937 Nanjing Massacre. I simply can't imagine why Japanese rightists try to deny and distort this historic fact in their textbooks," said Wu Jiao, a graduate student from the School of Foreign Studies of Nanjing University.

"I don't think the rightists can deceive all the Japanese people," she said.

More than 10 million Chinese have signed an online petition to oppose Japan's move to seek a permanent seat on the UN Security Council and a number of public protests have broken out in cities.

Chinese Foreign Ministry spokesman Qin Gang said yesterday the Japanese side should "treat Chinese people's concerns over the issue correctly" and "handle historic issues closely related to Chinese people's feelings properly."

He called on the Chinese public to express their will "in a reasonable way," and pledged that China would protect the lives and property of Japanese citizens in the country.

Jiang Ruiping, a professor from Beijing-based China Foreign Affairs University, said he feared that strained political relations have affected the economic relationship of China and Japan.

Trade growth between the two countries last year was lower than that between China and its other trading partners, such as the European Union, the United States and the Association of Southeast Asian Nations, he said.

(China Daily 04/06/2005 page1)




Today's Top News
Top China News

Japanese textbook distorts history, stirs fury




400,000 to relocate for water project




Wen arrives in Pakistan on first leg of tour




Possible US textile safeguards draw criticism




Landmark KMT visit garners wide support




China tries to stem coal mine disasters