Wen arrives in Pakistan for official visit
By Zhao Huanxin (China Daily)
Updated: 2005-04-06 06:28
ISLAMABAD: Premier Wen Jiabao arrived in the Pakistani capital yesterday evening to start a three-day official visit.
After touching down at Islamabad's Chaklala Airbase at around 5.15 pm local time, Wen heralded relations between the two Asian countries.
"Sino-Pak friendship has withstood the test of time and international upheaval," he said.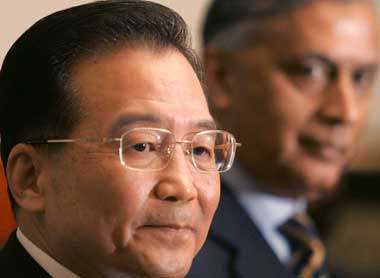 Chinese Premier Wen Jiabao (L) and Pakistani Prime Minister Shaukat Aziz listen to a question during a news conference in Islamabad April 5, 2005. Chinese Premier Wen began a tour of South Asia in Pakistan on Tuesday, reinforcing a strategic alliance between the old friends and signing a range of agreements on economic and trade cooperation. [Reuters]

Maintenance of the "all-weather" friendship and across the board co-operation is in the fundamental interests of both countries and peoples, and the China-Pakistan relationship also plays a major part in ensuring the peace, stability and development of the region, Wen said in a written speech delivered to the media.

At the time of going to press , Wen was holding talks with his Pakistani counterpart Shaukat Aziz, who held a grand welcoming ceremony at the airbase, and is to host a banquet in Wen's honour. (For updates, visit www.chinadaily.com.cn)

The two sides were expected to sign a dozen agreements during the course of talks last night to expand trade and investment as well as consolidate strategic relations.

On a highway across the Islamabad Chaklala Airbase and on the meadow in front of the Presidential Palace stood colossal portraits of Chinese and Pakistani presidents and premiers, one huge banner proclaimed "Sino-Pak friendship is higher than the mountains and deeper than the ocean."

Faiz Muhammad, assistant director of the Capital Development Authority in Islamabad, yesterday said the city was preparing to give a warm welcome to greet the Chinese guests.

Pakistan Prime Minister Shaukat Aziz (R) exchanges document after signing an agreement with Chinese Premier Wen Jiabao, after talks at the prime minister's house in Islamabad April 5, 2005. Chinese Premier Wen began a tour of South Asia in Pakistan on Tuesday, reinforcing a strategic alliance between the old friends and signing a range of agreements on economic and trade cooperation. [Reuters]

"Pakistan and China already have a very good rapport, and we anticipate relations will get even better," he said.

The Chinese premier's Pakistan visit marks the first leg of Premier Wen's four-nation South Asian tour, which will also take him to Bangladesh, Sri Lanka and India through April 12.

(China Daily 04/06/2005 page1)




Today's Top News
Top China News

Japanese textbook distorts history, stirs fury




400,000 to relocate for water project




Possible US textile safeguards draw criticism




Coal death toll climbs to 1,113 in Jan-Mar




Shrine visit angers both sides of Straits




People flock to honour Yellow Emperor