Faye Wong in a race to tie the knot?
(City Weekend)
Updated: 2005-04-05 16:49
The feelings between singer Wang Fei and actor Li Yapeng is said to have reached the astronomical level of undying love.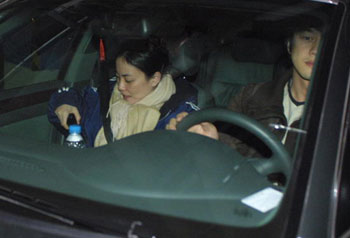 Faye Wong and boy friend Li Yapeng are seen in their car. It's widely reported the couple have already got married. [sina]
The paparazzi swear the couple has already taken the plunge and secretly married during the Spring Festival this year in Greece.
Maybe so, but the tight-lipped pair has yet to confirm or deny. But that doesn't seem to matter to the gossip hungry public - as long as they can soak up salacious tid-bits from newspapers, magazines and websites, the truth is of little importance.
Someone once asked if I think Li Yapeng truly loves Wang Fei. A good, but tough question.
Who can guarantee love? My answer came straight from the gut: "Wang Fei is at the top of the pop princess heap. If not Wang Fei, then who?"
In the past, it was not uncommon to hear snickers and jeers as Li Yapeng freely spent the money of his lady friends, but now he seems to have turned over a new leaf.

A copy of cover of Zhou Xun's latest album "Come Across" [baidu]


Li lavishly plunked down his own change to purchase a house next to Wang's residence to be their new home.

In addition to their apparent marital bliss, Zhou Xun has given them the most precious, and unexpected, wedding gift: her blessing.

Actress Zhou is Li's ex-girlfriend, who once played the role of The Other Woman in Li's love life.

In the beginning, she was blamed for robbing Li from his then girlfriend, but the ever fickle public did an about face and lavished sympathy on the former tartlet when they separated.

We all expected Zhou to cry a river when the news of Li's secret marriage broke (Li told Zhou that he would never take a bride in his life).

She even swore that she would stay single for two years to mend her broken heart. But the heart, like the public, is fickle.

After just three months, Zhou met Li Daqi, a relative nobody make-up artist from Taiwan.

Zhou has gushed that Daqi is a "miracle from God. He cares about me so much. He is so romantic. He is so amazing. He is so..." everything, we guess.

Zhou has not only mended her heart but has also found love and is not afraid to tell the world.

On various TV programs and in newspaper articles, Zhou announced, "I am out of the valley [of despair]!"

To further feed the gossip mill, Zhou told viewers on a recent TV appearance that she is ready and willing to marry Daqi at anytime.

Not surprisingly, reports are swirling about that the marriage has already taken place.

It appears that the two couples are in a heated race to announce their undying love and affection for their partner.

But if this is all a show to hide true feelings and severely broken hearts, how can this public dog show of love help them achieve true happiness?

All of these showings of affection can only lead to jealousy between the lovers.

| | |
| --- | --- |
| | |
| Former first daughter Chelsea Clinton boozing again | |

| | |
| --- | --- |
| | |
| Faye Wong in a race to tie the knot? | |

| | |
| --- | --- |
| | |
| Spanish actress Penelope Cruz | |
Today's Top News
Top Life News

Hong Kong proposes law interpretation on tenure




Wen: China poses no threat to the world




Nuclear power expansion set to spread inland




Experts slam Japan's incendiary school book




US copter crash kills 16 in Afghanistan




Non-leaky lake could spell ecological ruin