Yasukuni visit sparks criticism in Taiwan
(Agencies)
Updated: 2005-04-05 10:48
Su Chin-chiang, chairman of the Taiwan Solidarity Union (TSU), a hardline pro-independence Taiwan opposition party and occasional strategic partner of the ruling Democratic Progressive Party, paid homage at the war-related Yasukuni Shrine in Tokyo on Monday along with several other party "legislators".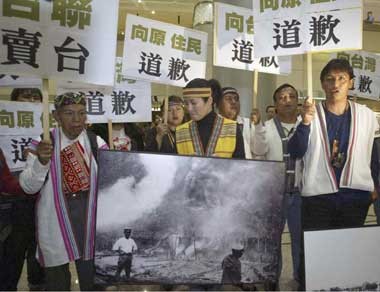 Aboriginal residents in Taiwan protest to denounce Su Chin-chiang, chairman of the Taiwan Solidarity Union, who visited Yasukuni Shrine April 4, 2005. They demanded Su to apologize. [newsphoto]

They were the first leading Taiwan politicians to visit the shrine since it was disclosed in the late 1970s that Class-A World War II war criminals had been added to the list of those enshrined there along with the war dead, according to party officials.

Su's shrine visit sparked waves of criticism in Taiwan.

Taiwan's "lawmaker" Kao-Chin Su-mei objected to Su's visit.

"Japan launched over 160 battles to destroy Taiwan's aboriginal tribes during its 51-year colony on the island," he said in a statement.

"We strongly protest the TSU visiting the Yasukuni Shrine... It is already an insult to Taiwan's aboriginal people that our soldiers were enshrined there."

Taiwan was ruled by Japan for 50 year after 1895, before its wartime defeat. During the conflict, some Taiwanese men were enlisted by the Japanese military while women were forced to become sex slaves for Japanese soldiers.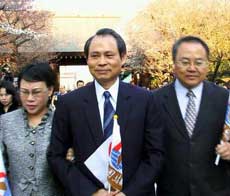 Taiwan Solidarity Union Chairman Su Chin-chiang (C), accompanied by other party "lawmakers", visits the Yasukuni Shrine in Tokyo, where some convicted Japanese war criminals are honored along with the country's war dead April 4, 2005. Su and others were the first leading Taiwan politicians to visit the Tokyo war shrine viewed by critics as a symbol of Japan's past militarism, Kyodo news agency said. [Reuters]

TSU spokesman Chen Chien-ming attempted to defend Su's visit, saying Su paid his respects to about 28,000 Taiwanese soldiers enshrined there ahead of Tomb Sweeping Day.

"We do not agree with the acts and invasions of the Japanese militarism (during World War II) but we should not let hatred persist,"

Japanese Prime Minister Junichiro Koizumi has visited the shrine four times since August 2001, angering Asian neighbors who fell victim to Japan's wartime aggression.

The Shinto shrine, dedicated to 2.5 million war dead including 14 convicted war criminals, also enshrines thousands of Taiwanese and Koreans who died in war, most of whom had been forced into service under Japan's colonial rule.




Today's Top News
Top China News

Japan approves textbook glossing wartime atrocities




China: US move on textile quota 'unfair'




Wen arrives in Islamabad for a 3-day visit




Landmark KMT visit garners wide support




China tries to stem coal mine disasters




Drug crime rise sparks calls for crackdown