11 Brazilian police arested in massacre
(Agencies)
Updated: 2005-04-05 10:24
Authorities on Monday arrested 11 police suspected of participating in death squad killings that left 30 people dead in two towns on Rio's poor outskirts.
Four of the officers were charged with murder in Thursday night's shooting, while seven are being confined at the police barracks, Rio de Janeiro State Security Secretary Marcelo Itagiba said.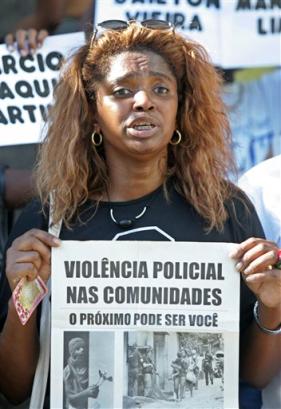 Relative of victims of a 'massacre' protest holding a poster that reads 'Police violence in our community' in front of the Sao Antonio church, in Nova Iguacu, Brazil, on Saturday, April 2, 2005. [AP]

Authorities believe the killings were a show of force by rogue police angered by the arrest of eight officers caught on film disposing of two bodies. Law officials said they are seeking a 12th suspect.

The bloodiest massacre in years in a state known for its violence left many perplexed. Only two victims had criminal records and five were teenagers shot to death while playing video games at a bar.

Authorities said the shootings began with the killing of 18 people at a bar in the poor town of Nova Iguacu. From there, the gunmen moved to the neighboring town of Queimados where 12 people were killed.

On Sunday, Justice Minister Marcio Thomaz Bastos said the government was sending between 400 and 600 agents from a special federal police force this week to help with investigations.

The agents would be attached to a force targeting death squads — shadowy associations often made up of off-duty or retired officers who are hired by businessmen to kill undesirables.

Authorities have likened the massacre to attacks by death squads, which 12 years ago, created an international uproar when they reportedly killed eight children sleeping outside a church in Rio's downtown.

The homicide rate across Rio de Janeiro state is among the highest in the world at around 50 per 100,000 residents, but in the Baixada, it climbs to 76 per 100,000.




Today's Top News
Top World News

Border row on agenda for Wen's India visit




Landmark KMT visit garners wide support




Three Gorges reservoir gets quake alarm




Drug crime rise sparks calls for crackdown




US may curb China clothing imports




Brave teacher touches hearts after car crash