UK's Blair to set election date, suffers poll setback
(Agencies)
Updated: 2005-04-05 10:06
British Prime Minister Tony Blair will call Britain's election for May 5 on Tuesday as polls show the main opposition Conservative Party has closed the gap on his ruling Labour Party.
Blair delayed the long-expected announcement by a day due to the death of Pope John Paul, but he is widely expected to visit Queen Elizabeth on Tuesday morning to seek symbolic permission for the dissolution of parliament.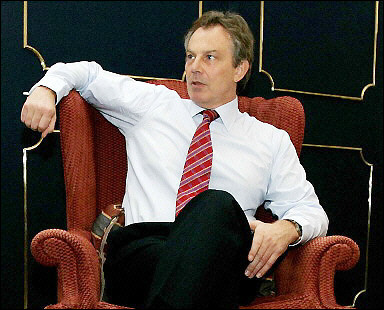 Prime Minister Tony Blair will call Britain's election for May 5 on Tuesday. [AFP/file]

Public anger over the Iraq war and general disillusionment with Labour could slash Blair's parliamentary majority and five newspaper polls published on Tuesday showed his party has lost support to the Conservatives.

"The prime minister should be nervous about his coming encounter with the electorate," the Times newspaper said in an editorial after a frontpage headline screamed "Tory poll surge rattles Labour."

Surveys in the Financial Times and Daily Mail both put the Conservatives on 39 percent, ahead of Labour on 34 percent.

But Britain's electoral structure means that if this result were replicated on polling day, Labour would still be the biggest party in the lower house, albeit with a majority slashed from 161 seats to 27, the FT said.

Britain's electoral map -- which puts large numbers of constituencies in Labour's urban strongholds -- means the Conservatives must win a larger share of the vote than Labour to take power.

Analysts say the Conservatives need a 10-point lead in the polls to win the election.

Labour fared slightly better in three other polls which found the Conservatives had cut Labour's lead but still trailed by 2 or 3 points.

HISTORIC THIRD TERM

Some political commentators say there is much to play for during the campaign and contrast it with 1997 and 2001 when Blair won triple-digit majorities.

If he wins, Blair would make history by becoming the first ever Labour prime minister to clinch a third consecutive term.

Official campaigning will start next week, although with the election date an open secret the race has been underway for months.

The Conservatives' pre-election campaign got off to a strong start as they targeted Labour on immigration and healthcare.

The parties will unveil their main policy manifestos in coming weeks but Labour has vowed to put the economy at the heart of its campaign.

Finance minister Gordon Brown, viewed by most analysts as Blair's most likely successor, has presided over eight years of economic growth and low unemployment.

Labour views that as a trump card but critics say higher spending has brought little improvement in schools and hospitals and instead led to overborrowing.

Voters will also pass judgment on Blair -- once a key electoral asset for Labour. His trust ratings slumped over the Iraq war and it is unclear how many Britons will forgive him.

Britain's political parties agreed to suspend campaigning on Monday out of respect for the late Pontiff.




Today's Top News
Top World News

Border row on agenda for Wen's India visit




Landmark KMT visit garners wide support




Three Gorges reservoir gets quake alarm




Drug crime rise sparks calls for crackdown




US may curb China clothing imports




Brave teacher touches hearts after car crash