Gaza settlers agree to meet with Sharon
(Agencies)
Updated: 2005-04-05 09:58
Ending months of angry opposition, several Jewish settler leaders agreed Monday to sit down with Prime Minister Ariel Sharon to discuss Israel's planned withdrawal from the Gaza Strip.
The meeting, set for Tuesday, was the latest sign that some settlers have come to terms with their failure to scuttle the plan and are preparing for life after the pullout this summer. Agreement by a majority of settlers to cut a deal would reduce the threat of confrontations.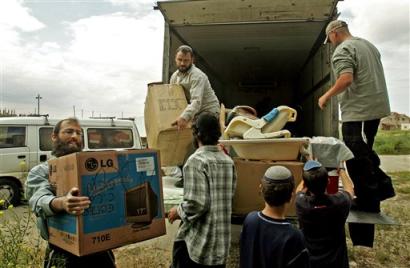 An Israeli settler family, name not given, coming from the West Bank, unload their belongings as they remove their house to the Jewish settlement of Kfar Darom in the Gush Katif block of settlements in the Gaza Strip Monday, April 4, 2005. The Jewish settlements in Gaza Strip are planned to be evacuated under the Israeli government's disengagement plan in the summer. [AP]

Settlers are demanding higher compensation from the government for giving up their homes. And some leaders, who are urging followers to refrain from violence, say they want to move their tight-knit communities as a group to Israel.

Zevulun Orlev, a pro-settler lawmaker who helped organize Tuesday's meeting, said the participants would outline settlers' concerns for Sharon. "We want the meeting to be the start of a dialogue between the prime minister and the settlers," he said.

While Orlev said he still bitterly opposed the withdrawal, he reluctantly acknowledged its inevitability. "We have to understand that we have to prepare for the possibility of the day after," he said.

The meeting follows a bruising but failed struggle in parliament to defeat Sharon's plan for uprooting all 21 settlements in Gaza and four small settlements in the West Bank.

Sharon says removal of these communities, which are home to 9,000 people, will improve Israel's security and help consolidate control over larger West Bank settlements.

Sharon reportedly told a parliamentary committee Monday that Israel should press forward with plans to connect the largest Jewish settlement in the West Bank to Jerusalem despite strong U.S. and Palestinian objections.

"This program has been in existence for 10 years. We should definitely move ahead with it," Sharon was quoted as saying by a meeting participant.

Palestinian officials condemned Sharon's comments. The Palestinians say that project will prevent them from setting up a viable independent state with east Jerusalem as their capital.

Since announcing his Gaza plan last year, Sharon has repeatedly outflanked opponents, overcoming divisions within his own party to win parliamentary approval. Last week, he cleared the final obstacle by winning approval for his 2005 budget. A failure to pass the spending plan would have caused the government to collapse and forced elections for a new parliament.

Many settlers have now turned their attention to the future, particularly how much money they will receive.

"Today, that's the central issue," said Gershon Blomberg, an 11-year resident of Ganim, one of the West Bank settlements slated for evacuation.

Blomberg said he has been offered $135,000 for his modest home, located on a quarter-acre plot. He says that isn't enough to buy something similar inside Israel — even in the rural communities he has looked at near the northern city of Afula.

"We've come to terms with the withdrawal, but we want to leave with respect, like we deserve," said Blomberg, 60.

Yonatan Bassi, head of the government body in charge of paying compensation, acknowledged such concerns. "I think that for most of the settlers, the compensation is reasonable. There are certain groups for whom the compensation truly is very low," he told Channel Two television.

Bassi said he expected payments to begin within days. Under current guidelines, settler families are expected to receive about $200,000 to $300,000, depending on the size of their home and other factors.

One report said settler leaders would demand an additional $1 billion at Tuesday's meeting, on top of the $900 million allocated by the government for compensation.

The settler representatives are also expected to propose that the 7,000 residents of Gush Katif, the main group of Gaza settlements, be moved as a group to a coastal area near the Israeli town of Ashkelon, which is just north of Gaza.

Israeli officials said that Sharon supported the idea of moving people in groups and that the government would consider raising compensation, saying their biggest concern was avoiding violence by militants.

Over the weekend, police began tightening security around the Al Aqsa Mosque compound in Jerusalem's Old City, and police searched cars Monday passing through the main entry into the area. An attack on the site, which is also revered by Jews as the Temple Mount, would cause widespread anger across the Muslim world.




Today's Top News
Top World News

Border row on agenda for Wen's India visit




Landmark KMT visit garners wide support




Three Gorges reservoir gets quake alarm




Drug crime rise sparks calls for crackdown




US may curb China clothing imports




Brave teacher touches hearts after car crash