China: US move on textile quota 'unfair'
(Agencies)
Updated: 2005-04-05 08:55
China on Tuesday criticized a U.S. plan to try to re-impose textile quotas in order to protect American manufacturers, calling it unfair and a violation of free trade.

Foreign Ministry spokesman Qin Gang said Washington was trying to blame its trading partners for the problems of U.S. business.
"This is not reasonable," Qin said at a regular news briefing. "This is unfair. This is protectionist."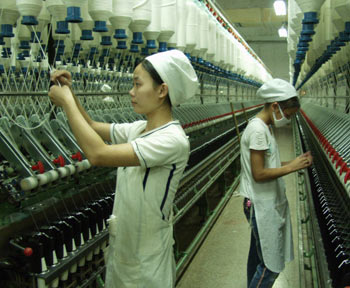 Two workers work in a textile factory in Xingtai, North China's Hebei Province April 3, 2005. [newsphoto]

The U.S. Commerce Department said Monday it would bring trade cases to determine whether quotas should be re-imposed to protect American textile makers from a surge in Chinese imports.

The U.S. government released data Friday showing that shipments of knit shirts from China had increased by 1,258 percent in the first three months of this year, compared to the same period last year, while shipments of cotton trousers were up by 1,521 percent.

"The major reason for this issue is that the United States has over-protectionist, irrational and unreasonable arrangements," Qin said.

US may curb China clothing imports

The Bush administration took the first step on Monday toward restricting imports of low-priced pants, shirts and underwear from China in response to pressure from the U.S. textile industry.

In a rare move that could boost support for other White House trade priorities, U.S. trade officials said they would "self-initiate" investigations into whether to curb the imports, which surged by 300 to 1500 percent in the first three months of 2005, according to preliminary data.

"This decision is the first step in a process to determine whether the U.S. market for these products is being disrupted and whether China is playing a role in that disruption," Commerce Secretary Carlos Gutierrez said in a statement.

Textile groups and their allies in Congress have been pressuring the Bush administration to slap emergency curbs on China, which they say is poised to overrun the U.S. market following the end of a decades-old quota system on Jan. 1.

Beijing agreed when it joined the World Trade Organization in 2001 to let the United States and other countries impose "safeguard" restrictions on its clothing and textile exports when they surge to market-disrupting levels.

That provision, which expires at the end of 2008, allows countries to limit the growth in imports from China to just 7.5 percent above the previous year.

"Obviously, we're ecstatic," said Lloyd Wood, spokesman for the American Manufacturers Trade Action Coalition. But "I don't think there's any question that the government had no choice but to self-initiate on these categories. Politically, it would have been too damaging for them (to do otherwise)."

NEW PETITIONS

U.S. textile groups filed a dozen petitions in late 2004 asking for restrictions on about 20 categories of clothing and textiles from China based on just the threat that imports would surge when the quotas were removed.

However, the Bush administration was barred by court action from considering those "threat-based" petitions in a case brought by retailers who have long wanted unrestricted freedom to buy clothing from the cheapest suppliers.

Textile producers plan to file new petitions soon based on the government's preliminary import data.

The Bush administration's decision to self-initiate probes on cotton trousers, cotton knit shirts and blouses and cotton and man-made fibers spares the industry from preparing cases in those categories and could shave six weeks off or more off the time to it takes to actually impose curbs, said Daniel Ikensen, an trade analyst for the Cato Institute.

It could also improve the political environment for the U.S.-Central American Free Trade Agreement, which faces stiff opposition in Congress partly because of concerns raised by textile groups, Ikensen said.

U.S. textile producers want the Bush administration to make a formal decision to impose curbs once a 30-day comment period ends. The law allows it to take up to 150 days, if needed.

"There is no reason to believe that imports from China are causing market disruption," Laura Jones, executive director of the U.S. Association of Importers of Textiles and Apparel said in a statement before the Bush administration announcement.

The preliminary import figures show that imports from some other Asian suppliers such as Hong Kong, Taiwan, Macao and South Korea decreased in January through March as much as imports from the Chinese mainland have risen, she said.




Today's Top News
Top China News

Japan approves textbook glossing wartime atrocities




Border row on agenda for Wen's India visit




Landmark KMT visit garners wide support




China tries to stem coal mine disasters




Drug crime rise sparks calls for crackdown




China: US move on textile quota 'unfair'