Brave teacher touches hearts after car crash
By Bao Xinyan (China Daily)
Updated: 2005-04-05 06:20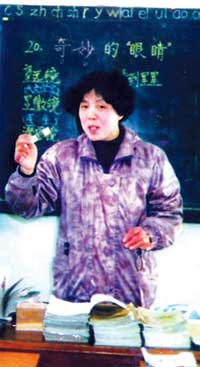 Yin Xuemei. [jschina.com.cn]

JINTAN: The story of a 52-year-old teacher, who was seriously wounded as she protected her students in a road accident, has touched the people of her home city in Jiangsu Province.

Yin Xuemei, who has virtually no chance of recovery, managed to push several children to safety as she led them across the road in the city of Jintan.

The accident happened as she was taking her pupils, aged seven and eight and from Chengnan Elementary School, to a local cinema at about lunchtime last Thursday.

The driver of the car that crashed into the children is thought to have been too tired to drive, according to a local police officer.

"She is brain dead," said Wu Pingtao of Jintan People's Hospital.

"Although the doctors have spared no efforts in giving emergency treatment, they said she has only a very tiny chance of recovery," she added.

Jiang Jianping, head of Chengnan Elementary School, said that both the school and the local government have been able to think of nothing else.

"We have tried our best to comfort Yin's family. The government has invited medical experts from Nanjing, capital of the province, and Shanghai to help save her," he said.

"And the hospital has not asked for any treatment fees. At the moment, how to save Yin is the only thing people care about."

Jiang also emphasized that if further medical treatment is needed, the school would pay as much as possible. Her colleagues have also offered to help.

Many citizens are talking about Yin's brave deeds.

"I have read about the accident from newspapers and people are all talking about it," said a worker at the elementary school.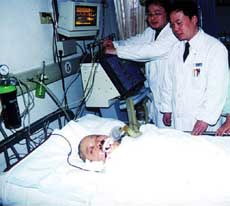 Yin Xuemei, first considered brain dead in the accident, is pronounced dead April 5, 2005 in in Jintan People's Hospital. [jschina.com.cn]

" She is a good teacher and we should learn from her," he said.

"More measures should be taken to give protection to students," he added.

The local Public Security Bureau has been investing the accident.

According to Yang Dongfu, a policeman who is in charge of the accident investigation, the main suspect is called Li Husheng, and he might have caused the accident because of tiredness.

"Li was almost asleep when driving near the school. Only when the accident happened did he wake up. He was extremely frightened," Yang said. "He is very sorry."

A sign outside the school reads, "School in front, please slow down."

Yang emphasized that the accident was still under investigation and refused to give more information.

Some witnesses said Li, who was driving a black car, rushed directly at the students at high speed.

Yin pushed away five or six kids with all her strength, but was hit by the car.

"The teacher was thrown at least 25 metres away from the car. Blood was flowing from her nose and ears onto the ground," said Wang Xiaoping, a motorbike driver who witnessed the accident.

Yin was taken by ambulance to the People's Hospital.

(China Daily 04/05/2005 page3)




Today's Top News
Top China News

Border row on agenda for Wen's India visit




Landmark KMT visit garners wide support




Three Gorges reservoir gets quake alarm




Drug crime rise sparks calls for crackdown




US may curb China clothing imports




Brave teacher touches hearts after car crash