Three Gorges reservoir gets quake alarm
(China Daily)
Updated: 2005-04-05 06:20
CHONGQING: A tremour monito-ring and early warning network for the Three Gorges reservoir area has been set up in Chongqing, Southwest China's biggest municipality, the local government said.
The network combines a local earthquake monitoring station with the city's GPS monitoring network. It will improve the existing geological disaster monitoring system, which was designed to detect medium and strong geological movement, the city's seismological bureau said.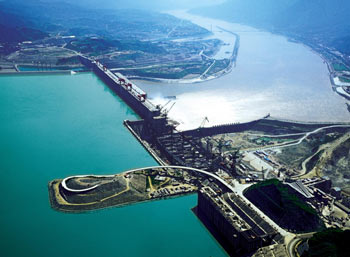 A bird's eye view of the Three Georges Dam [newsphoto/file]
"With the new network, even the slightest movement in the reservoir area can be detected, providing the local government with complete first-hand information," said Hu Xuqing, an official in charge of the geological calamities prevention office of the reservoir area.
The construction of the Three Gorges Project on the Yangtze River, the world's biggest hydro-electric project, began in 1993 and is expected to be completed in 2009. The huge reservoir began to fill in June, 2003, with more than 220 counties inundated in Chongqing and Hubei Province on the river's upper and middle reaches.
Geological disasters like landslides, collapses and mud flows were common before construction of the Three Gorges Project, sparking fears about possible calamities after the reservoir began to fill.
China has invested more than 4 billion yuan (US$482 million) in the prevention and control of geological disasters in the Three Gorges area. This new network is a part of the system, said Hu.
"We have started 24-hour monitoring of the geological situation in the reservoir area and will issue early warnings if necessary," he said.
Hu said that a special geographical disaster data base for the reservoir area has been established and advanced technologies like satellite remote sensing are being used to monitor the geological situation in the area.
(China Daily 04/05/2005 page2)
Today's Top News
Top China News

Border row on agenda for Wen's India visit




Landmark KMT visit garners wide support




Three Gorges reservoir gets quake alarm




Drug crime rise sparks calls for crackdown




US may curb China clothing imports




Brave teacher touches hearts after car crash