Landmark KMT visit garners wide support
By Xing Zhigang (China Daily)
Updated: 2005-04-05 06:16
A historic mainland visit by Taiwan's opposition Kuomintang (KMT) last week has drawn support from people on both sides of the Taiwan Straits.
A survey conducted by the Beijing-based Social Survey Institute of China suggested that 83 per cent of respondents expressed support for the trip by KMT Vice-Chairman Chiang Pin-kung.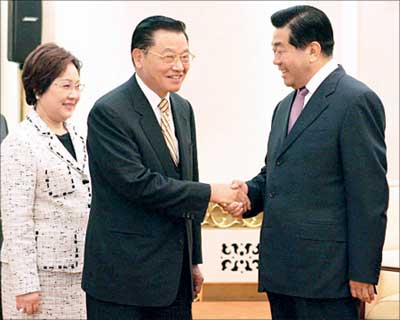 Jia Qinglin (right), Standing Committee member of the Political Bureau of the CPC Central Committee, meets Chiang Pin-kun, Kuomintang vice-chairman and leader of the 34-member delegation from Taiwan, March 31 at Beijing's Great Hall of the People. Jia, also chairman of the Chinese People's Political Consultative Conference National Committee, is the highest Beijing official to meet Chiang in the KMT's first official mainland visit in 56 years. [China Daily]

The 34-member KMT delegation made its first official visit to the mainland in 56 years between March 28 and April 1.

About 81 per cent of those surveyed considered the visit significant, hoping it could help ease cross-Straits tensions, according to the results released yesterday.

Another 59 per cent called the KMT visit a sign of "a gradual reunification" between Taiwan and the mainland while 64 per cent said they believed the visit conformed to the will of the people of the island.

The telephone survey interviewed 1,500 urban residents in 10 major mainland cities including Beijing, Shanghai and Guangzhou on the KMT visit.

As for the impact of Chiang's trip on cross-Straits ties, 68 per cent of the respondents said it would help effectively contain secessionist activities, while 63 per cent believed it would benefit an ultimately peaceful reunification across the Straits.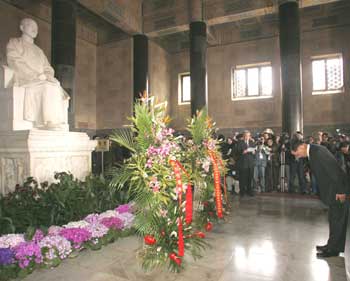 Chiang Pin-kun, vice-chairman of the Taiwan-based Chinese Kuomintang Party, bows to pay tribute to a statue of Dr Sun Yat-sen at Sun's mausoleum in Nanjing, Jiangsu Province March 30, 2005. Dr Sun is the pioneer of Chinese revolution and the founding father of the republic. Chiang and his delegation will also visit Beijing and meet senior officials from the Communist Party of China before the end of their trip on Friday. [newsphoto]

About 78 per cent of those surveyed said the KMT visit helped strengthen their determination and confidence in fighting secessionist forces.

On Saturday, a survey by the Taipei-based China Times showed that 37 per cent of the respondents said the KMT visit would eventually help improve cross-Straits relations, with 19 per cent holding opposite views.

The poll, which interviewed 951 people, also showed 42 per cent of those surveyed favour KMT Chairman Lien Chan's visit to the mainland while 28 per cent oppose.

During Chiang's visit, Jia Qinglin, a Standing Committee member of the Political Bureau of the Communist Party of China Central Committee, offered a formal invitation for Lien to visit the mainland. Jia also extended invitation to other parties that follow the one-China principle and oppose "Taiwan independence."

In an interview with Taiwan cable channel TVBS on April 1, Minister of State Council's Taiwan Affairs Office Chen Yunlin also extended an invitation to James Soong, Chairman of the People First Party (PFP).

Taiwanese media reports said Lien had accepted the invitation but his visit has yet to be timetabled.

Meanwhile, Soong was still meditating on whether or not he would accept the offer.

In the wake of Chiang's visit, both the KMT and the PFP announced their plans to send delegations to the mainland to boost cross-Straits economic and trade exchanges this month.

In a related development, Su Chin-chiang, chairman of the hardline pro-"independence" Taiwan Solidarity Union yesterday visited the Yasukuni Shrine as part of a four-day trip to Tokyo, Taiwanese media reported.

His visit to the war shrine, where Japan's Class-A World War II criminals are honoured, sparked criticism in Taiwan.

(China Daily 04/05/2005 page1)




Today's Top News
Top China News

Border row on agenda for Wen's India visit




Landmark KMT visit garners wide support




Three Gorges reservoir gets quake alarm




Drug crime rise sparks calls for crackdown




Brave teacher touches hearts after car crash




Gov't eyes medical aid for residents