New China Life seeks $800m in overseas IPO
(bloomberg)
Updated: 2005-04-04 16:08
New China Life Insurance Co., the nation's fourth-biggest insurer, may raise as much as $800 million in an initial public offering overseas, scrapping plans for a Shanghai share sale, its President Guan Guoliang said.
The life insurer is selecting investment banks to arrange a possible sale this year, Guan said in a phone interview from his Beijing headquarters last week. The company shelved plans for a local currency listing in China, Guan said, after the Shanghai Composite Index slumped by a third in the past year.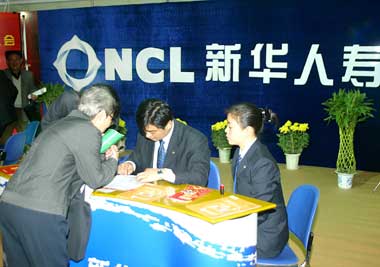 Staffs of New China Life Ningbo Branch help an elder woman buy insurance policy in this November 2003 file photo. The life insurer is planning an overseas IPO to raise US$800 million. [newsphoto]

"The recent decline on the mainland's stock market has reduced its appeal to companies seeking to go public," said Yue Yuanbin, an investment banker with Guotai Junan Securities Co. in Shanghai.

China's insurance market grew 11 percent to 431.8 billion yuan last year as the government encouraged the nation's 1.3 billion people to turn to commercial insurers for protection to allow for lower welfare benefits. New China Life is among life insurers in China that were warned by regulators that their rapid growth has left them with insufficient capital.

"We need capital for future business development," Guan said, declining to identify the banks pitching for the IPO. "We won't consider it if it only gives us a few hundred million."

Rewarding Investors

The company would be the fourth China insurer to sell shares overseas after China Life Insurance Co. and Ping An Insurance Co., the top two life insurers, and PICC Property & Casualty Co., the biggest general insurer. The companies, none of which chose to sell shares in Shanghai, have all rallied since their debuts.

Shares of China Life Insurance have risen 43 percent since the stock's IPO in December 2003. Shares of Ping An Insurance gained 18.5 percent since its IPO last June. PICC has risen 36 percent since it first traded in November 2003.

Karen Chan, an insurance analyst at Nomura International in Hong Kong, said the price of New China Life may have to reflect moderating growth in China's insurance market as it matures. The industry's premiums expanded 27.1 percent in 2003 and 44.7 percent in 2002.

"Premium growth has been slowing in China so investors interest will depend on the valuation," said Chan.

China Life trades at 24.5 times analyst estimates for its 2005 earnings, according to Thomson Financial. By contrast, Manulife Financial Corp., Canada's largest insurer, trades at 13.2 times forecast earnings.

Capital

New China Life collected 18.74 billion yuan of premiums last year, about half the amount collected by China Pacific Insurance Co., the nation's third-biggest insurer by premiums, according to the insurance regulator's Web site.

New China Life was set up in Aug. 1996 and has 34 branches and 120,000 staff, the company said on its Web site. The company, which has been planning to sell shares to the public since 2001, sold a combined 24.9 percent stake to Zurich Financial Services AG, International Finance Corp., Japan's Meiji Life Insurance Co. and Netherlands Development Co. in 2000.

New China Life reached the regulator's capital reserves requirement this year after it sold 1.35 billion yuan ($163.1 million) of subordinated debt to boost capital, Guan said.





Today's Top News
Top China News

'Murdered' wife lives, proves husband's innocence




New China Life seeks $800m in overseas IPO




Vice-governor gets 12 years for taking bribes




No change in sight for Renminbi rate




Guessing game in battle for papal succession




US blocks use of mapping system in China