Beijing moves to put private cars in check
(chinadaily.com.cn)
Updated: 2005-04-04 14:54
Beijing plans to take measures to check private cars in the Chinese capital, according to a senior official with the Beijing Environmental Protection Bureau.
"We will neither control nor limit the growth of private cars, but we will put it in check," Xinhua News Agency quoted Pei Chenghu, deputy chief of Beijing's Environmental Protection Bureau as saying.
"The check is to protect the air quality in Beijing," added Pei. And the check will be realized through the adoption of stricter exhaust gas emission standard, the report said.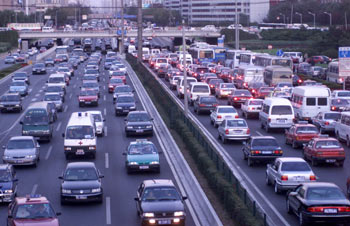 Traffic in the 3rd ring road in Beijing in this picture taken on October 22, 2004. [newsphoto]
According to information released by Beijing bureau of statistics, the number of private cars in the city reached over 1.298 million units, or 11 cars for every 100 permanent residents in the city.
Beijing is expected to adopt the Euro III standard for gas emission this year, with the Euro IV standard to be adopted by 2008. This measure is sure to phase out some of the popular sedans in Beijing.
Another measure the city¡¯s authorities are pondering is to increase parking fees in the downtown areas, and they hope the rising parking fee would discourage car owners to drive to the central areas, relieving traffic jams and reducing tail gas emission.
Analysts say many potential car buyers would have to give it a second thought when the costs to own and use a car in Beijing rise. At present, such costs include insurance, road maintenance fee, fuel costs that are also on the rise, car maintenance and parking fees.
The authorities in Beijing have no intention of following the controversial Shanghai practice of auctioning vehicle platen, the Xinhua report said.
Today's Top News
Top China News

'Murdered' wife lives, proves husband's innocence




Vice-governor gets 12 years for taking bribes




Guessing game in battle for papal succession




Gov't urges increased mine safety spending




Beijing moves to put private cars in check




Kuwait seeks strong oil ties with China