3 dead as Saudi forces, militants clash
(Agencies)
Updated: 2005-04-04 10:25
Saudi security forces clashed with militants Sunday in a daylong gunbattle near a northern town known as a stronghold of Islamic fundamentalists, killing three terror suspects.
Fifteen members of the security forces also were wounded in the shootout in the town of ar-Rass, 220 miles northwest of the capital Riyadh, Al-Ekhbariya television quoted the governor of al-Qassim province, Prince Faisal bin Bandar bin Abdul Aziz, as saying.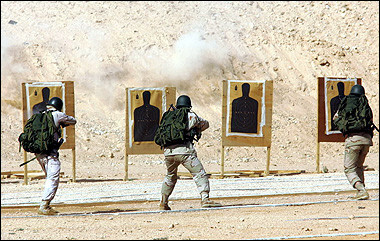 Saudi special forces take part in a drill in Riyadh. Three suspected Islamist militants were killed after over 12 hours of intense clashes with Saudi security forces north of Riyadh, a provincial governor said. [AFP/File]

Ar-Rass is near Buraydah, a known stronghold of Islamic fundamentalists in the kingdom.

Al-Ekhbariya reported late Sunday that the gunbattle was still going on.

Security forces had killed "three wanted terrorists" and forced the other militants to flee their hideout to a building that is under construction, the governor said, according to the all-news satellite TV channel.

Interior Ministry spokesman Brig. Mansour al-Turki confirmed the fight but not the casualty figures.

"There are a number of wanted terrorists inside (the building)," al-Turki told The Associated Press in a phone call. "They are resisting, but the resistance is much weaker than it was earlier."

Al-Turki said the security forces had surrounded the building.

"We hope we will be able to finish this within hours. We are waiting for them to surrender," he said.

Earlier Sunday, a Saudi official said security forces had cornered several militants in the town's Jawazat district. Witnesses said they had seen ambulances evacuating wounded people but it was not known if the casualties were troops, militants or bystanders.

Saudi Arabia launched a crackdown against Islamic militants after suffering a number of suicide bombings, kidnappings and gunbattles since May 2003. The attacks, which have tended to target foreign workers, have been blamed on al-Qaida and allied militants.

The Saudis have published a list of the country's 26 most wanted militants and all but five of them have been killed or arrested. It was not known whether the militants killed Sunday were on the list.




Today's Top News
Top World News

'Murdered' wife lives, proves husband's innocence




Ma Ying-jeou seeks chairmanship of KMT




Vice-governor gets 12 years for taking bribes




Guessing game in battle for papal succession




Gov't urges increased mine safety spending




Kuwait seeks strong oil ties with China