Two dead, 40 wounded as bombs rock in Thai south
(Agencies)
Updated: 2005-04-04 08:56
Two people were killed and at least 40 wounded when three near-simultaneous bombs exploded at an airport in southern Thailand, outside a Carrefour supermarket and near a hotel, police said.
"Two people have died from the bomb at the airport" in Hat Yai, the region's largest city and its commercial capital, Songkhla province's police commander Major General Suraphol Thongprasert said.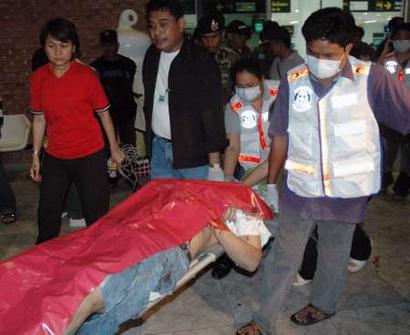 Thai officials carry the body of a bomb victim to a hospital after a bomb explosion at Hat Yai airport in Songkhla province south of Bangkok April 3, 2005. Three bombs exploded almost simultaneously at the airport, a supermarket and a hotel in Thailand's restive Muslim south on Sunday, killing one person and wounding more than 50 others, police and witnesses said.[Reuters]

The attack at the airport -- a gateway to the Muslim-majority deep south used by thousands of international tourists, particularly visiting Malaysians -- marked one of the most brazen attacks on public institutions since a separatist insurgency erupted in January 2004.

More than 630 people have been killed in violent attacks by insurgents or in security operations by police and military units.

The airport bombing occurred at 8:24 pm (1324 GMT) inside the departure terminal, an airport official said.

"There was a bomb... in the airport, close to the check-in counter," the official said on condition of anonymity.

At about the same time, several people were wounded when a bomb went off in front of the city's Carrefour store, part of a French-owned chain, Suraphol said.

A third bomb was planted in a motorcycle and detonated outside a hotel in Songkhla city, near Hat Yai and along the coast of the Gulf of Thailand, he added. There were no injuries.

Pairote Warachit, deputy director of Hat Yai hospital, said 26 of the wounded were sent to his hospital. Most seriously injured and three were listed in critical condition.

Thirteen others were sent to Songkhla Nakkarin Hospital in Songkhla town, while three other hospitals in the region also received an unknown number of casualties from the blasts, he said.

Among the seriously wounded was a girl of eight or 10, while a man of about 50 had one leg blown off and another leg nearly severed. A woman in was also in critical condition from the blast outside the supermarket, the doctor said.

Carrefour is a retail chain heavyweight in Thailand and has dozens of outlets across the kingdom.

The managing director of the Airports Authority of Thailand, Bancha Patanaporn, insisted the airport had not closed, noting that two flights to Bangkok, the last flights of the night, were due to depart after delays.

Bancha said he did not know if foreigners were among the casualties.

While unrest attributed to the insurgency has flared in Songkhla province, it is not one of the three southernmost provinces that has borne the brunt of the violence.

Thai army chief General Pravit Wongsuwan said an intense security presence in Yala, Pattani and Narathiwat provinces may have led to insurgents choosing Songkhla as the scene of coordinated attacks.

"We have strict security measures in those three provinces, with the support from the people. That's why the incident turned this way," Pravit told reporters.

Defense Minister Thammarak Issarangkura Na Ayutthaya told AFP there had been advance intelligence that the airport would be targeted by insurgents.

"We received intelligence reports a few days ago that Hat Yai airport would be a target," he said. Thammarak did not say whether extra security had been put in place after the reports were issued.

The explosions come just two days after a team from the world's largest Islamic group, the Indonesia-based Nahdlatul Ulama, wrapped up a five-day mission to the region aimed at mediating between the government and Muslim militants.

On Thursday Prime Minister Thaksin Shinawatra said Thailand may scale back its forces in the southern provinces.

The prime minister's secretary general, Prommin Lertsuridej, said Thaksin had been informed of the blasts and was "following the situation closely."




Today's Top News
Top World News

Wife's 'rebirth' proves husband's innocence




Guessing game in battle for papal succession




Gov't urges increased mine safety spending




Vice-governor gets 12 years for taking bribes




Kuwait seeks strong oil ties with China




Ma Ying-jeou seeks rule over Nationalist Party