All Syrian forces to leave Lebanon by April 30
(Agencies)
Updated: 2005-04-04 08:31
Syria has promised to withdraw all its forces from Lebanon by April 30 and will let a United Nations team verify the pullout, a U.N. envoy said Sunday.
Damascus ordered the withdrawal, demanded by a U.N. Security Council resolution seven months ago, after coming under intense international pressure over the Feb. 14 assassination of a Lebanese former prime minister, Rafik al-Hariri.
The U.N. envoy, Terje Roed-Larsen, said Syrian Foreign Minister Farouq al-Shara had told him "all Syrian troops, military assets and the intelligence apparatus will have been withdrawn fully and completely ... by April 30, 2005."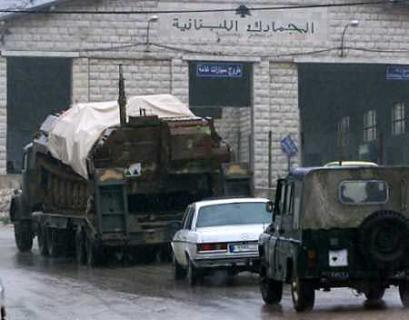 Syrian troops withdraw toward the Syrian border with Lebanon in al-Masnaa point in eastern Lebanon in Bekaa valley April 3, 2005. Syria will withdraw all its troops and intelligence agents from Lebanon by April 30, U.N. envoy Terje Roed-Larsen said on Sunday.[Reuters]

Roed-Larsen was speaking at a joint news conference with Shara after talks with President Bashar al-Assad in Damascus.

"Syria has agreed that subject to the acceptance of the Lebanese authorities a U.N. verification team will be dispatched to verify the (full withdrawal)," said Roed-Larsen. A Syrian source said the team would report to the U.N. envoy.

Lebanese opposition figures hailed the announcement, which fulfilled one of their key demands.

Syria first sent troops to Lebanon in 1976, early in its 1975-90 civil war, but in recent years had reduced numbers to about 14,000 from a peak of 40,000.

U.N. Resolution 1559, sponsored by the United States and France, demanded the departure of all foreign forces, the disbanding of all Lebanese militias and respect for Lebanon's political independence.

"Syria by its full withdrawal from Lebanon would have implemented its part of resolution 1559," Shara said.

The declared timetable means all Syrian forces will have left before Lebanon holds parliamentary elections. The polls were due to have taken place in May, but might be pushed back because of political turmoil since Hariri's killing.

"POSITIVE IMPETUS"

Lebanese opposition leaders have accused Syria or the Lebanese security agencies that it backs of responsibility for Hariri's death. Damascus denies any involvement.

"The declaration... is a decisive positive development in the Lebanese crisis," opposition member of parliament Nassib Lahoud said. "We hope that it opens a new chapter in the Lebanese-Syrian relations marked by the highest level of cooperation between two independent states."

Large opposition protests in recent weeks in Beirut have demanded the end of Syria's role in Lebanon.

"I do hope that the agreement and understandings we've reached today in Damascus will give a positive impetus into Lebanon in the sense that elections will take place speedily and ... these elections should be free and fair," said Roed-Larsen.

Shara voiced support for the elections, which he said should be held "at the time agreed among the Lebanese."

Last month Assad announced plans for a two-phase troop withdrawal from Lebanon within the framework of the 1990 Taif Accord which ended the Lebanese civil war.

The first stage, under which all Syrian forces pulled back to the eastern Bekaa Valley and some crossed the border, was completed last month. More have left since then.

Roed-Larsen said he was informed Syria had withdrawn 4,000 troops and closed its security offices in Beirut.

Dozens of Syrian military trucks and some tanks on transporters rolled out of Lebanon Sunday, witnesses said.

They said troops had evacuated seven positions in and round the village of Anjar close to the border. But the Syrian intelligence headquarters in the village and a large army base in an ancient castle were still manned by Syrian personnel.

A Lebanese-Syrian military committee met in Beirut and Damascus in the past few days to agree on the withdrawal timetable and Lebanese army chief General Michel Suleiman met Assad in Damascus Saturday.




Today's Top News
Top World News

Kuwait seeks to strengthen oil ties with China




Pope dies from heart and kidney failure




Gov't urges increased mine safety spending




Ma Ying-jeou seeks rule over Nationalist Party




Vice-governor gets 12 years for taking bribes




Stock market should not be fools'game