World gets first glimpse of Pope's body
(Agencies)
Updated: 2005-04-04 08:20
Finally at rest after years of crippling disease, Pope John Paul II's body lay in state Sunday, his hands clutching a rosary, his pastoral staff under his arm.
Millions prayed and wept at services across the globe, as the Vatican prepared for the ritual-filled funeral and conclave that will choose a successor.
Television images gave the public its first view of the pope since his death: lying in the Vatican's frescoed Apostolic Palace, dressed in crimson vestments and a white bishop's miter, his head resting on a stack of gold pillows. A Swiss Guard stood on either side as diplomats, politicians and clergy paid their respects at his feet.
An estimated 100,000 people turned out at St. Peter's Square for a morning Mass and thousands more ! tourists, Romans, young and old ! kept coming throughout the day, filling the broad boulevard leading to St. Peter's Basilica. They clutched rosaries and newspaper photos of the late pontiff as they stood shoulder-to-shoulder to pray for the soul of "our beloved John Paul."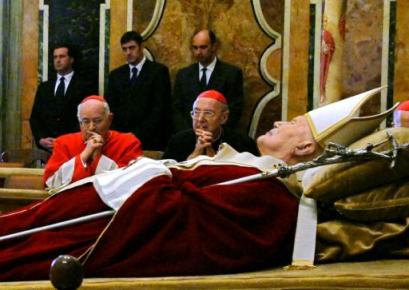 In this picture made available by the Italian Presidency, Cardinal Miloslav Vlk of the Czech Republic, left, and Cardinal Francesco Marchisano of Italy mourn

Pope John Paul

II, lying out in state in the Clementine Hall at the

Vatican

, Sunday, April 3, 2005. The Pope died on Saturday at the Vatican after a 26-year pontificate. He was 84. [AP]

"Even if we fear we've lost a point of reference, I feel like everybody in this square is united with him in a hug," said Luca Ghizzardi, a 38-year-old nurse with a sleeping bag and a handmade peace flag at his feet.

Early Sunday, a text message had circulated on cell phones in Rome, asking people to light candles in their windows. "May they light up the road to God for him, the way he did for us," the message said.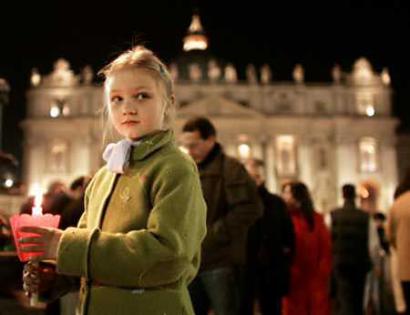 A girl holds a candle during a night vigil in Saint Peter's Square at the Vatican April 2, 2005. Pope John Paul II, the Pole who headed the Roman Catholic Church for 26 years, died on Saturday evening, the Vatican said. [Reuters]

Around the world, bells tolled and worshippers prayed in remembrance of the man who reigned for longer than all but two of his predecessors.

John Paul, who was 58 when the cardinals elected him the first non-Italian pope in 455 years, also left a legacy of conservatism. He opposed divorce, birth control and abortion, the ordination of women and the lifting of the celibacy requirement for priests.

The mourning stretched from the pope's native Poland, where 100,000 people filled a Warsaw square at the spot where he celebrated a landmark Mass 26 years ago, to the earthquake-devastated Indonesian island of Nias, where a priest led special prayers. In Paris, the great bell of Notre Dame sounded 84 times ! once for each year of the pontiff's life ! as a crowd of 25,000 massed outside.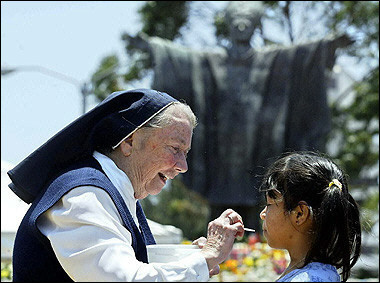 A nun gives the host to a girl during a mass in honour of

Pope John Paul

II in Guatemala City.[AFP]

In New York, U.N. Secretary-General Kofi Annan and former Mayor Rudolph Giuliani joined parishioners who packed St. Patrick's Cathedral for a standing-room-only Mass.

"He showed us how to live and he showed us how to die," said one parishioner, Joan McDermott. "He reached out to people of all faiths, not just Catholics and Christians."

In the Holy Land, Israelis remembered John Paul as a builder of bridges between the faiths, noting how he had embraced Holocaust survivors with kindness and maintained friendships with Jewish friends from childhood.

In Rome, officials were scrambling for a huge influx of pilgrims ! up to 2 million of them ! seeking to pay final respects to the late pontiff. Starting Monday, the pope's body was to lie in state at St. Peter's Basilica.

The College of Cardinals ! the red-capped "princes of the church" who now officially govern the 1 billion-strong Roman Catholic Church ! was to hold its first meeting Monday, a pre-conclave gathering expected to plan and set a date for the funeral later this week at St. Peter's Square.

US President Bush was expected to attend the funeral, which will draw other world leaders as well as Vatican hierarchy and ordinary faithful. The conclave must begin 15 to 20 days after the pope's death.

Karol Joseph Wojtyla died at 9:37 p.m. Saturday in his apartment of septic shock and cardio-circulatory collapse, the Vatican said.

The mourning began with an overnight vigil in St. Peter's Square. In keeping with Vatican tradition, Cardinal Camillo Ruini, the late pope's vicar for Rome, issued a formal announcement of John Paul's death to the people of Rome early Sunday.

Cardinal Angelo Sodano, the Vatican's No. 2 official, gave the homily at Sunday's Mass at St. Peter's. "For a quarter century, he brought the Gospel of Christian hope to all the piazzas of the world, teaching all of us that our death is nothing but the passage toward the homeland in the sky," he said.

The written text of Sodano's homily called the late pope "John Paul the Great," a title usually designated for popes worthy of sainthood, such as Gregory the Great and Leo the Great. Sodano did not use the title when he delivered the homily, and there was no explanation. Vatican texts, however, are considered official texts even if they are not pronounced.

After the Mass ended, Archbishop Leonardo Sandri, who became the pope's public "voice" in the final weeks of his life, read the traditional Sunday noontime prayer, which John Paul delivered throughout his pontificate.

The crowd applauded, and some fought back tears, when Sandri announced that the late pope prepared the prayer himself before he died ! perhaps one of John Paul's last written documents.

"It's a historic event," said Ercole Ferri, a 72-year-old Roman who proudly showed off a list of the six popes he has lived through. "It's not something sad for me. I think of all that he has done."

"I think more about how hard it will be for a new one to follow in his footsteps," he added.

"John Paul held his hand to us young people," said 21-year-old Alessio Bussolotti, who drove to Rome with his fellow Boy Scouts from the Italian city of Ancona. "Now we have to give him ours."

Once the Mass ended, cardinals, prelates, Italian government officials and diplomats gathered in the Sala Clementina of the Apostolic Palace, where John Paul's body lay in state.

His crossed hands clutched a rosary, and his pastoral staff was tucked under his left arm.

"Our Holy Father looks very much at peace. It was very satisfying for all of us to see him so serene," Cardinal Roger Mahony of Los Angeles said after paying his respects. "His life is finished and he gave up his spirit."

At their meetings beginning Monday, the cardinals will read John Paul's final instructions, including his choice of burial place. Most popes in recent centuries have asked to be buried in the crypts below St. Peter's Basilica, but some have suggested the first Polish-born pope might have chosen to be laid to rest in his native country.

In addition, the cardinals will arrange for the destruction of John Paul's Fisherman's Ring and the dies used to make lead seals for apostolic letters ! formal gestures meant to symbolize the end of his reign and to prevent forgeries.

On the sidelines, cardinals will certainly be sizing each other up as possible "papabili," or having the qualities to be the next pope.

Cardinal Bernard Panafieu, one of five French prelates who can vote, said Sunday he was hoping for someone "who dynamizes the people ! God's people ! as John Paul II did. At the same time, a man who has an international sense, of the opening of Catholicism to the world. An open man and at the same time, a man faithful to the great traditions of the Church."

John Paul survived a 1981 assassination attempt, but in his later years was the picture of frailty, weighed down by Parkinson's disease and crippling knee and hip ailments. Although he continued his travels, he was too weak to continue his famous gesture of kissing the ground when he arrived at his destinations.

Hospitalized twice in the past two months after breathing crises, and fitted with a breathing tube and a feeding tube, John Paul became a picture of suffering as his death approached.




Today's Top News
Top World News

Kuwait seeks to strengthen oil ties with China




Guessing game in battle for papal succession




Gov't urges increased mine safety spending




Vice-governor gets 12 years for taking bribes




Ma Ying-jeou seeks rule over Nationalist Party




Al Qaeda: 7 bombers struck Iraqi prison