Pope close to death, receives communion
(Agencies)
Updated: 2005-04-01 13:49
VATICAN CITY - Pope John Paul was in a "very grave" condition on Friday and appeared close to death after suffering cardio-circulatory collapse and shock, the Vatican said in a statement.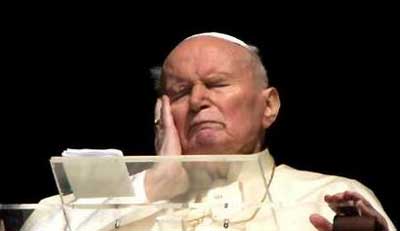 Pope John Paul II touches his face as he appears from the window of his private apartment at the Vatican March 30, 2005. Pope John Paul's fragile health took a turn for the worse as he developed a very high fever caused by a urinary infection, the Vatican said. Picture taken March 30, 2005. [Reuters]


Vatican spokesman Joaquin Navarro-Valls said the 84-year-old Pope had received the "Holy Viaticum" -- communion reserved for those near death -- and had decided himself not to go to hospital for treatment.

The Vatican statement said the Pope had been given cardio-respiratory assistance on Thursday and on Friday morning was still "conscious, lucid and tranquil."

It said the Pope celebrated Mass with his close aides at 6.00 a.m. (11 p.m. EST) on Friday.

Pope John Paul's fragile health took a sharp turn for the worse on Thursday evening as he developed a very high fever caused by a urinary infection. After initially stabilizing, his condition then deteriorated further, the Vatican said.

"Yesterday afternoon ... following a urinary infection, a state of septic shock and cardio-circulatory collapse set in," the statement said.

"This morning, the Holy Father's health condition is very grave."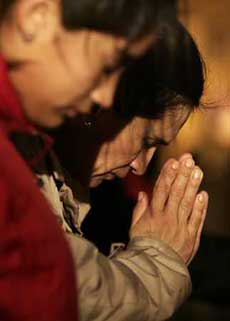 Faithful pray for Pope John Paul's health in front of Saint Peter's Basilica at the Vatican March 31, 2005. - Pope John Paul has developed a very high fever caused by a urinary infection, the Vatican said on Thursday, in a major worsening of his already fragile health. [Reuters]

The Pope has led the 1.1 billion-member Church for more than 26 years, but his health has declined steadily over the past decade. He has been seriously ill for most of the past two months and has failed to recover from recent throat surgery.

Doctors stayed at the John Paul's side through the night and a solitary light shone in the vast Apostolic Palace in a room believed to have been set up for medical staff.

BURNING FEVER

Italian media reported that the Pope's temperature leapt to around 40 C (104 F) on Thursday afternoon, the day after doctors had inserted a feeding tube into his stomach in an attempt to boost his fading strength.

In Rome, hundreds of people, many with tears in their eyes, rushed to the Vatican to pray below the Pope's windows.

"We heard the news, and we're here to pray. We feel we need to be close to the Pope right now," said Sister Antonia.

The third longest-serving pope in Roman Catholic history spent 28 days in Rome's Gemelli Hospital in two periods in February and March after suffering breathing crises.

Once dubbed the "Great Communicator," the Pope has been unable to speak in public since he last left hospital on March 13, with a tube to help him breathe inserted in his windpipe.

The feeding tube was added on Wednesday because the Parkinson's disease was making it difficult for him to swallow and he was becoming increasingly weak.

Historians say one of the Pope's major legacies will remain his role in the fall of communism in Europe in 1989.

Just over a decade later, the Pope fulfilled another of his dreams. He visited the Holy Land in March 2000, and, praying at Jerusalem's Western Wall, asked forgiveness for Catholic sins against Jews over the centuries.

A tireless traveler, hailed as "God's Athlete," he has clocked up some 1.25 million km (775,000 miles) in 104 foreign trips to some 130 countries.

He has seemed as much at ease lecturing dictators of the left and the right as he has telling leaders of world democracies that unbridled capitalism and globalization are no panacea for the world's post-Cold War problems.

Critics, however, have attacked his traditionalist stance on family issues, such as his condemnation of contraception.

A former actor who wrote several plays, John Paul has used his mastery of timing, levity and languages to communicate as few other modern world figures have done.





Today's Top News
Top World News

KMT chairman Lien accepts invitation to visit mainland




FM: History distortion no small beer




Sponsors in starting blocks for 2008 Games




Inspections find more Sudan I food




Vatican denies reports of Pope in coma




Controversial lake project suspended