Pope in sharp turn for worse with fever
(Agencies)
Updated: 2005-04-01 09:10
VATICAN CITY - Pope John Paul's fragile health took a sharp turn for the worse as he developed a very high fever caused by a urinary infection, the Vatican said.
Italian media said the 84-year-old Pontiff had received the sacrament for the sick and dying, commonly known as the Last Rites. It is given to the very seriously ill but does not necessarily mean death is imminent.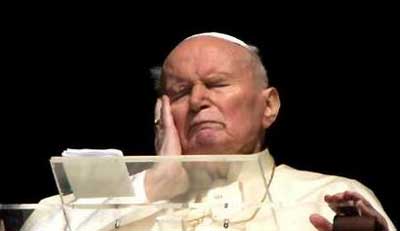 Pope John Paul II touches his face as he appears from the window of his private apartment at the Vatican March 30, 2005. Pope John Paul's fragile health took a turn for the worse as he developed a very high fever caused by a urinary infection, the Vatican said. Picture taken March 30, 2005. [Reuters]

"He's ill, very ill," an unnamed medical source was quoted as saying by Italy's Ansa news agency on Friday.

The Pope, who is struggling to recover from throat surgery, was not taken to hospital despite the gravity of the situation. One media report said he was too frail to be moved.

Doctors stayed at the Pontiff's bedside into the early hours of Friday morning as hundreds of faithful gathered in St Peter's Square to pray for the man who has led the world's 1.1 billion Roman Catholics for the past 26 years.

"The Holy Father was today stricken by a very high fever provoked by what has been ascertained to be an infection of the urinary tract," a Vatican statement said late on Thursday, adding he was receiving "appropriate antibiotic therapy."

Ansa quoted medical sources as saying he Pope was responding to the medicine but that the situation was extremely severe.

Just hours earlier Cardinal Christoph Schoenborn, the Archbishop of Vienna, seen as a possible successor to the Pontiff, told the Austrian news agency APA that the Pope was "approaching, as far as a person can tell, the end of his life."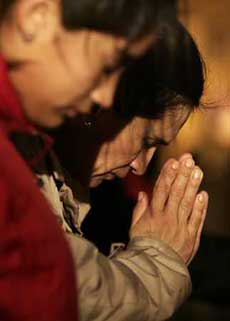 Faithful pray for Pope John Paul's health in front of Saint Peter's Basilica at the Vatican March 31, 2005. - Pope John Paul has developed a very high fever caused by a urinary infection, the Vatican said on Thursday, in a major worsening of his already fragile health. [Reuters]

Schoenborn said he hoped for the Pope's sake that "the moment of relief comes for him."

BURNING FEVER

The Pope's health deteriorated suddenly a day after doctors inserted a feeding tube from his nose into his stomach to try to boost his strength. Italian media reported that his temperature leapt to around 104 F in the late afternoon.

Medical experts said the infection may have spread to his bloodstream, adding that this was a potentially lethal condition given his frailty and the fact that he has Parkinson's disease.

"When someone has advanced Parkinson's disease they're at risk from opportunistic infections because of their debilitated condition," said Dr David Charles, a neurologist at Vanderbilt University Medical Center in Nashville, Tennessee.

"Most die from some other acute condition, whether pneumonia or a urinary tract infection," Charles said.

The lights on the top floor of the Apostolic Palace, from where the Pope usually addresses crowds, were switched off at midnight (1700 EST), but crowds stayed in St Peter's Square.

"We heard the news, and we're here to pray. We feel we need to be close to the Pope right now," said Sister Antonia, a nun from Rome.

Once before, in 1981, he received the Last Rites after being shot by an would-be assassin.

The Polish-born Pontiff underwent throat surgery on Feb. 24 to insert a tube into his windpipe to help air flow into his lungs. Once dubbed the "Great Communicator," he has been unable to speak in public since.

The feeding tube was added on Wednesday because the Parkinson's disease was affecting his muscles and making it difficult for him to swallow.

The third longest-serving pope in Roman Catholic history spent 28 days in Rome's Gemelli Hospital in two periods in February and March after suffering breathing crises.

Vatican officials interviewed by Reuters earlier on Thursday said they were increasingly pessimistic about the Pope making a full recovery from his ailments.

"Hardly anyone thinks the situation will improve but everyone is hoping for a miracle," said one official.

HISTORICAL PAPACY

One of the Pope's major legacies, according to historians, will be his role in the fall of communism in Europe in 1989.

Just over a decade later, the Pope fulfilled another of his dreams. He visited the Holy Land in March 2000, and, praying at Jerusalem's Western Wall, asked forgiveness for Catholic sins against Jews over the centuries.

A tireless traveler, hailed as "God's Athlete," he has clocked up some 1.25 million km (775,000 miles) in 104 foreign trips to some 130 countries. A familiar figure across the globe, the Pope has drawn crowds of up to four million people.

He has seemed as much at ease lecturing dictators of the left and the right as he has telling leaders of world democracies that unbridled capitalism and globalization are no panacea for the world's post-Cold War problems.

Critics, however, have attacked his traditionalist stance on family issues, such as his condemnation of contraception.

A former actor who wrote several plays, John Paul has used his mastery of timing, levity and languages to communicate as few other modern world figures have done.




Today's Top News
Top World News

Beijing invites KMT chairman to visit mainland




FM: History distortion no small beer




Sponsors in starting blocks for 2008 Games




Inspections find more Sudan I food




Terri Schiavo dies, but debate lives on




Controversial lake project suspended