Sponsors in starting blocks for 2008 Games
By Lei Lei (China Daily)
Updated: 2005-04-01 06:32
Organizers officially launched the second phase of the Beijing 2008 Sponsorship Programme yesterday, setting out how brands can tie their names to the event.
Speaking at the launch, Executive Vice-President and Secretary-General of the Beijing Organizing Committee for the Games of the XXIX Olympiad (BOCOG) Wang Wei was confident sponsorship of the games was an attractive prospect.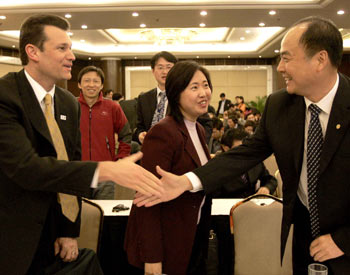 Wang Wei (right), executive vice-president and secretary-general of the Beijing Organizing Committee for the Games of the XXIX Olympiad (BOCOG), meets with a representative of Volkswagen (China) at the program March 31, 2005. [Xinhua]
He said: "The great business potential presented by the Beijing 2008 Olympic Games will ensure that those who get involved will be rewarded with great investment returns."
Potential sponsors are expected to use Beijing 2008 to strengthen brand recognition and raise their company profile.
BOCOG Marketing Director Yuan Bin assured potential sponsors their official status would be protected from unaffiliated rivals wanting to jump on the Olympic bandwagon.
She said: "The organizers have prepared a rights-and-benefits package for Beijing 2008 Sponsors." "We will also make clear commitments to protecting sponsors' rights through a sponsor recognition programme and anti-ambush marketing programme."
According to Yuan, the package includes use of the names and emblems of the Beijing 2008 Olympic Games, Beijing 2008 Paralympic Games, Chinese Olympic Committee, and all the Chinese Olympic Teams that are to participate in the Turin 2006 Olympic Winter Games and Beijing 2008 Olympic Games.
Sponsors also get the opportunity to exclusively supply products to BOCOG and have the chance to take part in the Olympic torch relay as well as securing tickets for the opening and closing ceremonies, accreditation, hospitality, transportation and accommodation.
"All products that fall in line with the Olympic spirit, the three concepts of the Beijing Olympic Games and Olympic marketing rules, will be considered for sponsorship opportunities," Yuan added.
The BOCOG Sponsorship Programme consists of three tiers of support: Beijing 2008 Partners, Beijing 2008 Sponsors and Beijing 2008 Suppliers.
Started in September 1, 2003, the Beijing 2008 Partners Programme has so far involved seven companies Bank of China, China Network Corporation, Sinopec, China Mobile, Volkswagen (China), Adidas and Air China.
"The selection of partners is still on going and the Supplier Programme will start soon," Yuan said. "Most of the sponsors are scheduled to come on board by the end of this year and companies from home and abroad will have equal opportunity to take part." At the briefing, representatives from Lenovo Group, Volkeswagen (China), World Wide Olympic Partner and Beijing 2008 Partner, also made presentations to share their Olympic marketing experience.
Today's Top News
Top China News

Beijing invites KMT chairman to visit mainland




FM: History distortion no small beer




Sponsors in starting blocks for 2008 Games




Inspections find more Sudan I food




Pope in sharp turn for worse with fever




Terri Schiavo dies, but debate lives on