FM: History distortion no small beer
By Jiao Xiaoyang (China Daily)
Updated: 2005-04-01 06:32
Residents of one northeastern Chinese city have struck a blow in the latest spat over Japanese history textbooks by withdrawing Asahi beer from supermarket shelves.
But Foreign Ministry spokesman Liu Jianchao moved quickly yesterday to play down the protest saying there is no Japan-phobia in China.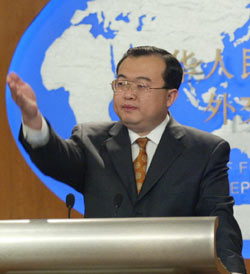 Liu Jianchao [file/newsphoto]

However, Japan's equivocal attitude towards its militant past has become a barrier to relations between the two neighbours, he added.

"There is no emotion against Japanese people," Liu said, referring to reports that some supermarkets in Changchun recently removed Japan's Asahi Beer from shelves after hearing the brewery had financed a history textbook which distorts Japan's World War II aggression towards China.

Changchun is capital of Jilin Province, an area Japan colonized during the war. "The main cause of the Chinese public's dissatisfaction is that Japan failed to treat history in a correct, objective and responsible manner," said Liu.

Asahi Beer's China representative released a statement yesterday denying the company had any financial connection to the right-wing Japanese history textbook.

"It is our hope that economic and trade issues are not politicized," said Liu.

Liu also welcomed popular Japanese table tennis star Fukuhara Ai, who has joined a club in the northeastern province of Liaoning for this year's Chinese league. Fukuhara, 17, has many fans in China.

"We hope Miss Fukuhara lives a happy life in China and scores good results in the Chinese league," said Liu.

He said China does not want bilateral ties to be soured by political issues.

"But the barriers stemming from historical issues are ones we cannot skim over," said Liu.

Japan's trade with China reached almost US$170 billion last year, more than that between Japan and the United States. But political ties between the two Asian neighbours have been strained by historical issues.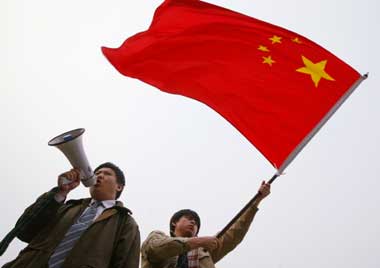 A Chinese man shouts anti-Japanese slogans as another waves a national flag to protest against Japan's bid for a permanent seat in the United Nations Security Council in Beijing March 31, 2005. [Reuters]

The two governments are also experiencing friction over oil exploration in a disputed area of the East China Sea.

"We demand Japan not to do anything that will complicate the situation," Liu commented on reports that Japan plans to start oil exploration in the disputed area.

He also challenged Japan's claim to a 200-sea-mile (370-kilometre) extension from Okinotori as its exclusive economic zone (EEZ). China holds that Okinotori is a rock but Japan calls it an island.

The United Nations Convention of the Law of the Sea holds that rocks which cannot sustain human habitation or economic life are not eligible for EEZ claims.

"The question shall be solved properly through consultations," Liu said.

Tsunami control

The China Seismological Bureau signed a contract with its Indonesian counterpart early March on jointly building an earthquake and tsunami early-warning station network in Indonesia, a project promised by Premier Wen Jiabao at January's international relief summit, according to Liu.

China's aid includes 10 broad-band digital stations, two back-up stations, 10 strong-motion seismographs and a data-processing centre, worth a total 27-million-yuan (US$3.3 million).

The network will help improve Indonesia's accuracy in figuring out the positions and levels of earthquakes, said Liu.

(China Daily 04/01/2005 page2)




Today's Top News
Top China News

Beijing invites KMT chairman to visit mainland




FM: History distortion no small beer




Sponsors in starting blocks for 2008 Games




Inspections find more Sudan I food




Pope in sharp turn for worse with fever




Terri Schiavo dies, but debate lives on